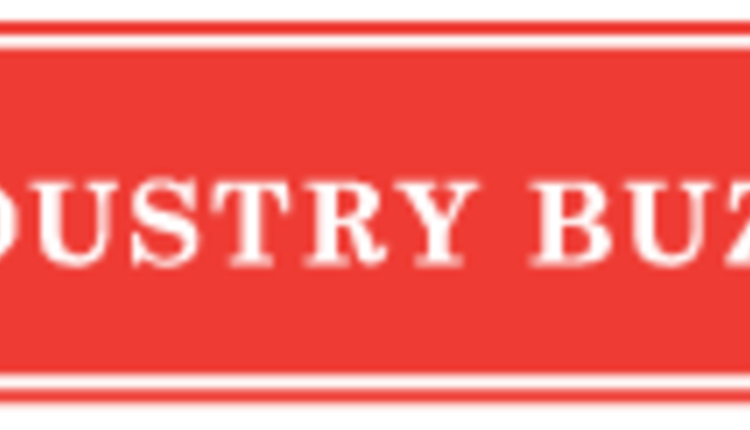 Kemin CEO facilitates experts in pinpointing pros, problems during international symposium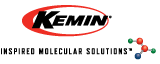 Business leaders from the world's two largest population centers provided insight Oct. 16 at the
World Food Prize
Borlaug Dialogue on how their companies utilize animal protein to effectively feed their growing countries.
In the panel discussion, "Adapting to Change: The Role of Animal Protein in Feeding a Hungry World," President and CEO of
Kemin Industries
, Dr. Chris Nelson, led Balram Singh Yadav of India and Shouchun Wang of China in discussing how their countries, which are top poultry producers, utilize native resources, with some feed imports, to supply their people with high quality, animal protein products, all while confronting challenges such as the avian flu and drought.
During the opening of the dialogue, World Food Prize Foundation leader Dr. Kenneth Quinn, former U.S. Ambassador to the Kingdom of Cambodia, questioned whether the world can sustainably feed the 9 billion people estimated to inhabit Earth by 2050. According to Balram and Wang, a solution lies in the use of animal protein. The panelists indicated that by utilizing animal protein, such as poultry, pork, beef, fish, milk and eggs, farmers can provide the right type of protein required for humans and do so in a sustainable and economical way.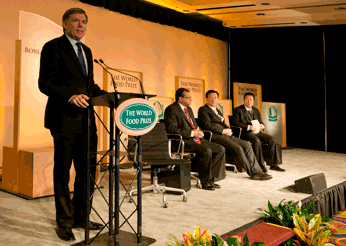 "Chronic malnutrition comes from protein deficiency," said Dr. Nelson prior to introducing the panelists. "Of the 2,000 calories we need per day, our bodies require 52 grams of protein as well as 240 mg of lysine, 80 mg of methionine and many other essential nutrients. While vegetable proteins can provide many of these if consumed in sufficient quantities, animal protein sources are essential, particularly in growing children."
Balram, Managing Director of Godrej Agrovet, one of India's leading diversified agribusiness companies, and also of Godrej Tyson Foods, Ltd., noted that in 2012, India produced 7.5 million tons of animal-sourced protein, including milk, meat and eggs, but only 4.5 million tons from vegetable sources other than cereals.
"Animal protein is similar to our own body and is more efficiently digested," said Balram. "It's widely accepted as a protein source in my country. Moreover, it is a very efficient way of converting inedible plant products like brans, cakes, extraction, roughages and crop residues into good quality protein."
He also added, "As India becomes richer and its middle class expands, we are seeing rapid growth of the animal protein industry. Though our per capita consumption of animal protein is much lower than the world average, it is rising rapidly. In the past five years, 37% of agricultural growth output came from animal protein. Within this category output of eggs and meat has risen faster and poultry the fastest."
As founder and chairman of Shandong Xiantan Co. Ltd., the largest broiler integrator in Shandong and one of the leading broiler integrators in China, supplying broiler products to KFC and McDonald's, Wang said his country's goal is to provide healthy, high quality chicken meat to its people. With the idea of feeding the nation, China's farmers and businesses have had to make broiler farming environmentally friendly and secure the food supplies necessary to sustain production levels.
"Broiler farming started in China 2,000 years ago and we are now raising chicken to meet my people's animal protein requirements," said Wang. "Farmers and businesses work together to supply protein food to China's people.
In ensuring high quality, healthy chicken, China imports soybeans for feed, but is using some of its own vegetable seed oils to replace some of the imported soybean meal used in the chicken feed.
As India grows, feeding its 1.2 billion people will always be a challenge. While the animal protein sector has done well and the future looks bright, it will have to overcome several challenges. More than 40% of Indian agriculture is still dependent on monsoon and would be devastated by a drought. Disease continues to be the biggest challenge, be it bird flu in poultry, viral outbreak in aqua or the recent FMD outbreaks in several parts of India. In addition, as the industry adopts modern technology, it also faces severe talent competition from the more glamorous service and manufacturing sectors.
ABOUT THE WORLD FOOD PRIZE
The World Food Prize was founded in 1986 by Dr. Norman E. Borlaug, recipient of the 1970 Nobel Peace Prize. Since then, The World Food Prize has honored outstanding individuals who have made vital contributions to improving the quality, quantity or availability of food throughout the world. The Prize also hosts the annual Borlaug Dialogue international symposium on global food security issues and a variety of youth programs that aim to inspire the next generation to work in the fields surrounding global agriculture. More details at www.worldfoodprize.org.
ABOUT KEMIN
Kemin (www.kemin.com) provides "inspired molecular solutions" specifically developed to provide nutrition and health benefits for humans and animals. Committed to feed and food safety, Kemin maintains top-of-the-line manufacturing facilities where approximately 500 specialty ingredients are made for the global feed and food industries as well as the health, nutrition and beauty markets. A privately held, family-owned and operated company, Kemin has nearly 2,000 employees and operates in more than 90 countries with manufacturing facilities in Belgium, Brazil, China, India, Italy, Singapore, South Africa and the United States.
Return to Industry Buzz.
10.25.2013