At the 2011 National Brown Swiss Convention, the Brown Swiss Historical Society presented two awards for the first time. The awards honor individuals who played a worthy role in the development of the breed. The Historical Master Breeder Award recipient (presented to someone no longer living) for 2011 was Norman E. Magnussen. The Active Master Breeder Award (presented to an active breeder(s) was presented to Milan F. "Bob" and Steven Blessing, Ft. Wayne, Indiana this year.
The awards are sponsored by Leon N. Button, Vine Valley Farms, New York in memory of his father, Leon W. Button.
Historical Master Breeder Award - Norman E. Magnussen
Norman E. Magnussen was born on December 18, 1910 in Augusta, Wisconsin. His introduction into Brown Swiss was in 1925 when Harold Magnussen, bought his two younger brothers, Norm and Vic, Swiss calves for 4-H projects.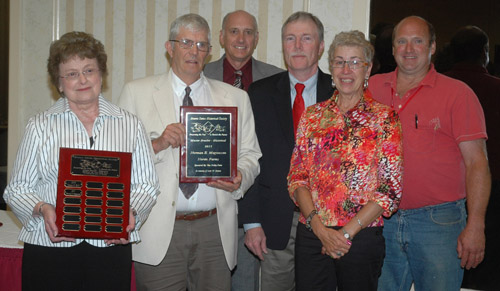 Left to right: Nancy and Gary Magnussen (son), Russ Geisy, Historical Society; Norman C. (son) and Traci Magnussen, Leon N. Button, award sponsor.
An early job was going on the show circuit in the Midwest with Fred Wetmore. In 1934 Norm traveled east to New York to work for his brother, Harold, herdsman of the great Walhalla herd, alongside brother, Vic. On July 12, 1936 Norm became herdsman at the recently established Judd's Bridge Farm, New Milford, Connecticut where he was instrumental in the development of the herd, seeking out foundation cows, especially from the Midwest. In late 1936 Norm purchased Jane of Vernon for Judd's Bridge. Without question the greatest animal to be bred there and influence the breed was Colonel Harry of J.B, son of Jane of Vernon. He sold in the Judd's Bridge Sale in 1947 for a breed record at that time of $23,500 to a syndicate.
In 1945 Norm left Judd's Bridge and came back to Wisconsin with his wife, Marion, and family. In December 1945 a farm was purchased by Norm, Marion and his brother, Vic, near Lake Mills, Wisconsin and the Norvic herd was established using the combination of the two brother's names.
Noteworthy herd sires included Lee's Hill Masterpiece M and Norvic Larry's Lilason. Norvic Colonel Elso was the first Swiss bull to enter the Badger State Coop in Shawano, Wisconsin in 1953. Others followed into A,.I. and Norvic bred many proven sires including Norvic Lilason's Beautician and Norvic Telstar.
Strong cow families were developed there. Probably the most famous was Norvic Lady Loa. One of the breed's great pictures is of Norvic Lady Loa and her 9 daughters - born before the days of ET work. Many foundation cows left Norvic to go to herds throughout the U.S. and the world.
The late 50's were the Glory Days for Norvic. In those days while the National Show was quite often at Dairy Cattle Congress, it did move around. Norvic Farm was Premier Breeder and Exhibitor at the 1957 and 1958 National Shows; Premier Breeder in 1959 and 1963. They were Premier Breeder and Exhibitor at the first World Dairy Expo in 1967. In the first year of the All American Contest in 1965 Norvic Farm had three animals recognized. Others followed.
Starting as a young lad Norm worked many sales. Following Vid Vye's death, Norm took over Brown Swiss Sale Service in July 1947. That fall he returned to Judd's Bridge to manage their sale. The first Imperial Sale (national sale)?was held that fall and continued until his death. The Springtime Show Window Sale was an annual event with Norm and Martin Fromm working together in the box for many years.
From 1973-1975 Norm served as a National Director and served on the Dairy Shrine Board. He was one of the founders of World Dairy Expo. In 1971 Norm was placed in the Hall of Fame of the Dairy Industry and was named Dairy Shrine Guest of Honor.
Norm passed away on October 22, 1976. He was survived by his wife, Marion, who passed away July 2010 and his children, Gary, Nancy, Wayne and Norman C.
Active Master Breeder Award - Milan F. "Bob" and Steve Blessing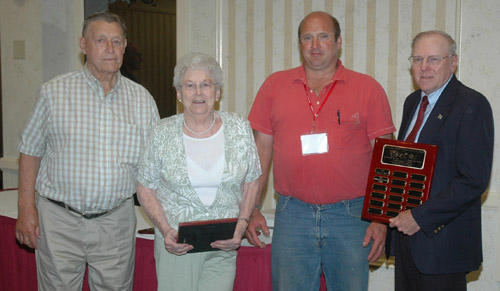 Left to right: Bob and Helen Blessing; Leon N. Button, award sponsor in memory of his father, Leon W. Button; Roger Neitzel, Historical Society.
In 1936 a farmer had been seeing and reading about the Brown Swiss breed. Liking what he saw he purchased a calf for his 10 year old son's 4-H project and the first Brown Swiss came to a farm near Ft. Wayne, Indiana. 75 years later the breed is sure glad as it would be hard to imagine our Brown Swiss world without the Blessing family. The 2011 honorees are Milan F - known to all as Bob - the 1936 4-H'er and son of the very wise Fred Blessing - and his son, Steve.
Bob showed at his first canton show in 1939 winning Junior Champion honors with Bernices Valentine 69136. They were at the canton show again in 1942, but then aren't to be found in the exhibitors list in canton show reports again until the 60's. During these years Bob and Helen were married and their family grew to five kids, Sandy, Steve, Sheryl, Shirley and Stan. Showing soon expanded to the state fair, and they went to their first national show in 1970 after V.O.H Taun Heather was named Grand Champion at the state fair.
At age 16 Steve began milking full time, joined the operation full time following graduation in 1968 and soon became the day-to-day manager of the herd. (Stan is also part of the operation with his main responsibilities lying in the crop side of the operation.)
A few purchases were made each year to bring in cows to become the foundation families for the herd. One such purchase by private treaty in 1975 was Betta Vue Neva. In 1980 she was the National Total Performance Winner. In 1983 her daughter, Blessing Elegant Neda, received the same honor, making them the first dam daughter pair to do so.
Things really came together for the Blessings at the 1983 Central National at Madison winning the Total Performance shawl, Grand Champion with Blessing Performer Kara, the coveted Norman E. Magnussen Best 3 Females Award and Premier Breeder and Exhibitor Banners. Success in the show ring has continued which has led to many, many All American honors and Premier Breeder honors at several national shows.
In 1985 Blessings won their first PTPR award. Then in 1988 the streak began. They have won the large herd award for 23 consecutive years, 1988-2010. Their current rolling herd average on 138 cows is 24,654 pounds milk, 4.%, 1045 pounds fat, 3.3%, 816 pounds protein.
Blessing Sensation Bria was the first ever Cow for All Seasons winning it in 1996. They've had two more winners in 1998 and 2000. They bred the 2000 National Total Performance Winner, Blessing PR Shirlan (Steve has been savvy enough to market some very good ones through the years!) In 2002 Mort Tower Frisky (owned with Rex Mort) won the National Total Performance Award, another successful family developed at Blessings.
From 1982-1988 Bob served as a National Director. In 1991 Steve and Stan won the Whitie Thompson Herdsmanship Award at Expo. In 2001 Steve received the prestigious Klussendorf Trophy.
Buyers at sales seek the Blessing bloodlines to serve as foundations in their herds. The herd is a "top of the list" stop for internationl visitors. The All Americans and PTPR?winnings continue to mount with A.I. bulls from Blessings making their mark (Banker, Agenda, Legacy to name a few). Blessing Farms, truly an all-round breeding program.
08.03.2011