New 4600 Series Disc Rippers help professional farmers overcome yield-robbing soil compaction challenges; sizes and mixes residue throughout field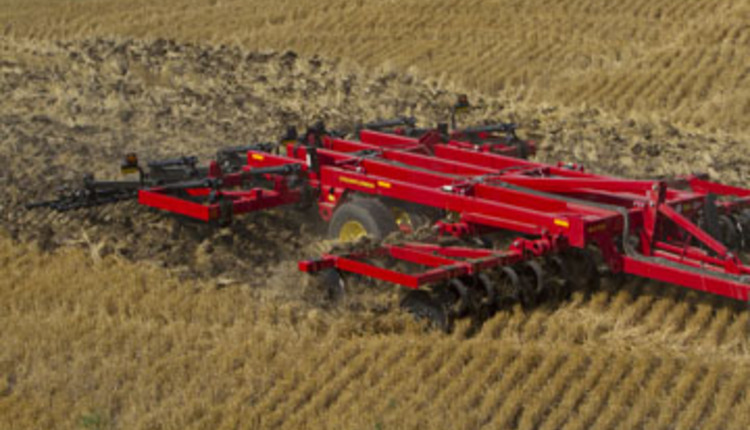 AGCO,
Your Agriculture Company (NYSE:AGCO), a worldwide manufacturer and distributor of agricultural equipment is pleased to introduce the all-new
Sunflower®
4600 Series Disc Rippers. Built for professional farmers in search of a rugged machine to handle challenging soil and residue conditions, the 4600 Series combines deep tillage with a proven disc harrow design for primary-tillage needs during the fall season. The 4600 Series is built on a solid frame with heavy-duty disc harrows and shanks designed to deeply penetrate heavily compacted soils while easily slicing through tough crop residue to maximize crop yield potential.
"One of the primary factors needed to maximize yield potential is a good soil structure conducive to vigorous root production," explains Tom Draper, Sunflower seeding and tillage product manager. "Compacted soils, however, can significantly limit root system development of any crop. And, as farmers increase their crop yields, there becomes a need to address and manage more crop residue in the field. That's where the Sunflower 4600 Series Disc Rippers comes into the equation. These machines are capable of tackling the tillage demands of corn-on-corn production in working widths large enough to maximize a tractor's horsepower."
Available in four models, the 4600 Series is built on a heavy-duty frame designed to withstand the high stress of aggressive tillage practices. The Series' main frame is constructed of strong 4-inch by 8-inch, 3/8-inch thick, steel tubing that's cross braced and gusseted for added rigidity and trouble-free maintenance. The 4600 Series Disc Rippers cutting widths range from model SF4610-07 at 14-feet to the SF4630-13 model - the largest flexible frame disc ripper in the industry - at 26-feet.
The 4600 Series is available in models ranging from 7 to 13 shanks that deeply penetrate and fracture the soil to eliminate compacted soil conditions. Shank spacing is set at 24-inch intervals and designed to handle hard soil conditions with a 3,500 lb. maximum trip pressure setting. Meanwhile, chromium carbide shin guards protect the 1-1/4-inch high-strength abrasion-resistant steel shanks from wear.
The disc harrow section of these tillage tools are comprised of two ranks of individually mounted, industry-leading 28-inch diameter by 5/16-inch thick disc blades that easily slice through and redistribute heavy crop residue. The number of blades across the four-model 4600 lineup varies; from the SF4610-07 model with 20 blades to the 28-blade model SF4610-09, to the 36-blade model SF4610-11 and the 40-blade SF4610-13 model. The operating depth of the disc blades can be adjusted remotely between 0- and 8-inches from within the tractor cab.
"The 4600 Series does an exceptional job of primary surface tillage, fracturing subsoil compaction while sizing and mixing residue throughout the entire working depth of the disc blades," adds Draper. "Sunflower has long been a leader in residue management and soil preparation, and the 4600 Series Disc Ripper lineup only adds to the availability of Sunflower tillage and seeding products that meet our customers varying needs."
Three different optional finishing harrow attachments - H.D. Coil-tine Harrow, Two-bar Coil-tine Harrow and Reel and Five-bar Spike-tooth Harrow - allow farmers to tailor the 4600 Series Disc Ripper to varying soil types and conditions to level residue and reduce clod size.
"The launch of the new seeding and tillage products from AGCO this year may very well be the largest introduction of new products to the marketplace by any seeding and tillage company in North American agricultural history," says Draper. "These new machines demonstrate AGCO's ongoing commitment to the North American seeding and tillage business."
Sunflower, known as the "originators of flexible tillage tools," is the seeding and tillage division of AGCO. Sunflower is known around the world as a producer and marketer of top-quality products with exceptional customer support. Quality and service are what today's professional producers expect from their equipment and what Sunflower continues to provide.
For more information on the Sunflower 4600 Series Disc Rippers, see your local Sunflower equipment dealer or visit http://www.sunflowermfg.com.
08.10.2011