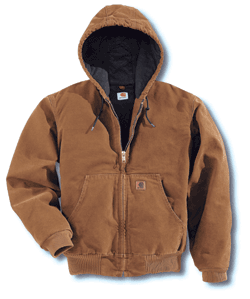 Cintas Corporation, North America's largest uniform supplier, has added a popular Carhartt Jacket to its Carhartt Rental Workwear line. This addition was prompted by an overwhelming demand by Cintas customers, many of whom work outdoors and in cold temperatures.
"Carhartt is synonymous with outerwear, so with colder months approaching, this was a natural addition and ideal timing," says Chuck Helmes, National Director of Garment Strategy for Cintas Corporation. "Based on the success of our Carhartt Rental line and the fact that this is one of Carhartt's best-selling items, we are confident it will be well-received."
The Carhartt Rental Active Jacket is available in Carhartt brown and features a quilted flannel lining for warmth, an attached hood, two large lower outside front pockets and secure inside pockets, triple-stitched seams for added durability and a heavy-duty zipper. It is available in sizes small through 5XL.
The Carhartt Rental Active Jacket, along with the rest of the Carhartt Rental Workwear line, was developed exclusively for Cintas. Workers will appreciate the styling, durability and rugged performance one would expect from Carhartt with the added benefits of laundering, repair and replacement that accompany a Cintas Rental Program. Businesses can now supply Carhartt, a brand that workers recognize and trust, in a cost effective manner, while increasing morale and exuding a professional company image.
The Carhartt Rental Workwear line launched in 2010 as part of a new partnership between Cintas and Carhartt, which was founded in 1889 and is a global manufacturer of premium rugged apparel.
"We look forward to the continued success of our rental work wear partnership with Cintas and are excited to offer the Carhartt Active Jacket into the Carhartt rental apparel product offering – a very popular style that our consumers know, love and trust," said Rick Fecowicz, director of Carhartt Licensing.
The Carhartt Rental Workwear line also includes a Work Shirt available in blue and sandstone, a Carpenter Jean, a 5-Pocket Work Jean and a Dungaree Pant available in navy and duck brown. For more information about Carhartt Rental Workwear from Cintas, visit: www.cintas.com/Carhartt.
About Cintas
Headquartered in Cincinnati, Cintas Corporation provides highly specialized services to businesses of all types primarily throughout North America. Cintas designs, manufactures and implements corporate identity uniform programs, and provides entrance mats, restroom supplies, promotional products, first aid, safety, fire protection products and services and document management services for approximately 900,000 businesses. Cintas is a publicly held company traded over the NASDAQ Global Select Market under the symbol CTAS, and is a component of the Standard & Poor's 500 Index.
About Carhartt, Inc.
Established in 1889, Carhartt is a global premium work wear brand with a rich heritage of developing rugged apparel for workers on and off the job. Headquartered in Dearborn, Mich., with more than 3,600 employees worldwide, Carhartt is privately owned and managed by the descendants of the company's founder, Hamilton Carhartt. For more information, visit www.carhartt.com.
12.05.2011