Proceeds went to support each breed's youth organization.
by Amanda Smith, Hoard's Dairyman Associate Editor
When
Hoard's Dairyman
commissioned artist Bonnie Mohr, Glencoe, Minn., to create a new edition to its
Foster Mothers of the Human Race
paintings, the result was astounding. Debuting in June 2010 to celebrate the magazine's 125th anniversary, the image launched a new tradition as the
Hoard's Dairyman
staff work to make the cover on each June issue a cut above the rest.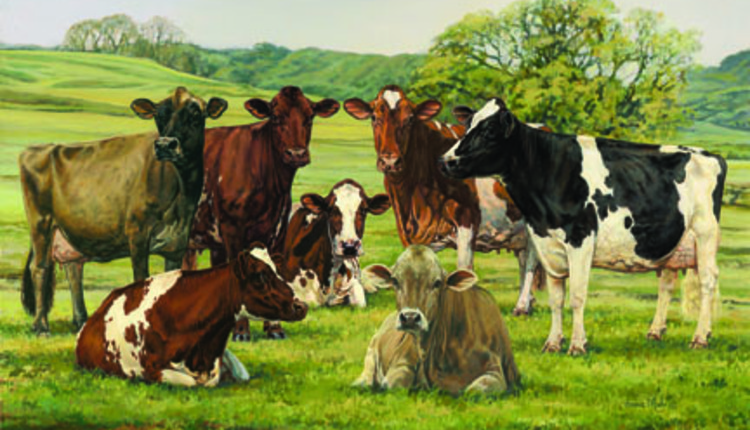 In recognition of the special role the dairy cow plays in our lives,
Hoard's Dairyman
donated two limited edition prints to each of the seven dairy breed associations. Both prints were remarqued and signed by artist Bonnie Mohr. There are only two, of 1,250 limited-edition prints, that are remarqued with a pencil etching of each respective breed's cow. A remarqued print typically brings twice or triple the value of what would be obtained for limited-edition prints. Each breed auctioned off one of these remarqued prints as a fund-raising effort with proceeds going toward the breed's youth programs.
Starting in the summer of 2010, the prints began going to auction at the breeds' conventions or a related event. With the conclusion of the 2012 convention season and the sale of the Brown Swiss and Holstein remarques, all of these limited-edition prints have been sold.
The Holstein remarque brought $750. The lucky bidders were Phil and Annie Trowbridge of Ghent, N.Y. At the Brown Swiss Youth Fun Auction, Jacob Roedl of Edgewood, Ill., bid $1,100 for the honor to own this rare print.
Throughout the intervening years since the print was debuted, two of the seven sold for over $2,000. The Guernsey print sold for $2,100, while Jersey topped the sales at $2,800. For prints selling over $1,000, Milking Shorthorn and Brown Swiss helped raise the number to four, selling for $1,000 and $1,100, respectively. In total, the remarqued prints helped raise $8,825 to support youth programming across the seven breeds.
What they brought at auction

Breed
Selling price
Buyer
State
Ayrshire
$425
Lynn Lee
TN
Brown Swiss
$1,100
Jacob Roedl
IL
Guernsey
$2,100
Patty McMurray
PA
Holstein
$750
Phil and Annie Trowbridge
NY
Jersey
$2,800
David Jordan
WI
Milking Shorthorn
$1,000
AMSS Board
WI
Red and White
$650
Ray and Kelly Van Der Wielen
Canada

Tweet
Click the icon to subscribe to
HD Notebook
and get the blog sent to you.