After the first day of World Dairy Expo, the Ayrshire champions for 2012 have been named.
by Chelsey Johnson, Hoard's Dairyman Editorial Intern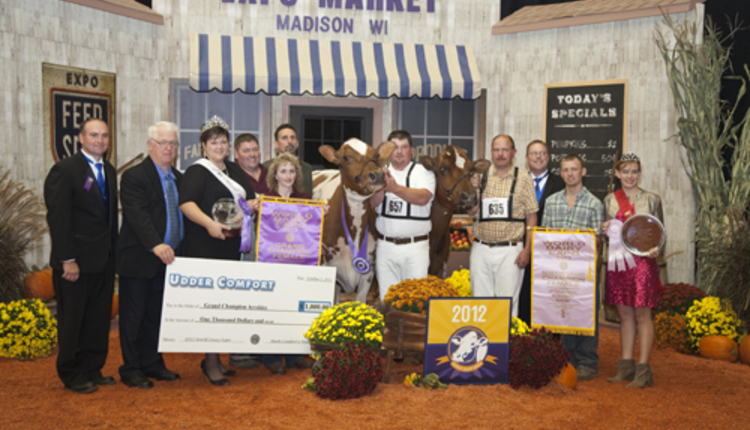 Lynn Harbaugh, Marion, Wis., lead judge in the International Ayrshire show, assisted by Chad Ryan, Fond du lac, Wis., praised the contenders for Grand Champion as a "tremendous uddered group of cows." He selected Sweet-Pepper Black Francesca owned by Beverly Donovan, Benton, Maine, as Grand Champion Ayrshire at World Dairy Expo yesterday afternoon. He praised her as a cow with "pure style and silk from end to end." She was the winning entry in the Six-Year-Old and Over Cow class. Last year, Sweet-Pepper Black Francesca was named the Reserve Champion of the show. This year, the Reserve Champion came from the Five-Year-Old Cow class, Sharwards Calimero Megan owned by Kurt Wolf, Epworth, Iowa.
In the junior show, Four-Hills Tdent Snoopy 2634, owned by Britney and Bradley Hill, Bristol, Vt., was named Senior Champion Female of the Junior Show. Britney Hill's Magic Meadows Bbbk Alexus, Bristol, Vt. was the Reserve Senior Champion.
The Premier Breeder award will go home with Palmyra Farms of Hagerstown, Md. This is their ninth Premier Breeder award. Old Bankston of Epworth, Iowa, was named Premier Exhibitor.
Share your Dairy Wellness story by liking our sponsor,


at
www.facebook.com/DairyWellness.

Tweet
Click the icon to subscribe to
Hoard's at Expo blog
and get the blog sent to you.
Return to Hoard's at Expo