"Behind the scenes" sums up James Baird's career long contributions to the dairy industry in a way that few people are aware of. Yet, it may be impossible to overestimate the number who were touched by his efforts.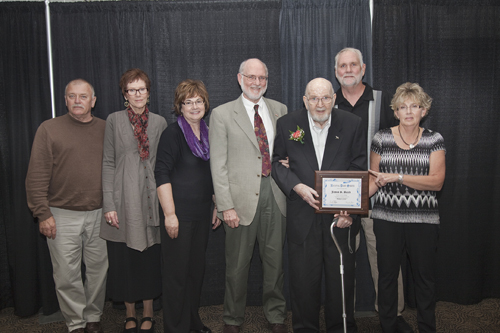 Several of Baird's family members were on hand to celebrate his recognition.
In the 44 years spanning from 1948 to 1992, Baird was art director and photographer at
Hoard's Dairyman
in Fort Atkinson, Wis. His photos of cattle and dairies, taken in 37 different states, appeared on some 700 of the magazine's covers and were seen by hundreds of thousands of milk producers around the world. In addition, it was Baird who created the 43 consecutive Christmas-themed, December issue covers that were done in the difficult "scratchboard" artwork style.
Even so, it is in two other areas that most people in the dairy industry have heard of him. Baird created the "Foster Mothers of the Human Race" painting in 1957 of the five major dairy breeds and its updated versions in 1963, 1991 and 1993. It was also Baird who did the linear scoring Trait sketches for the National Association of Animal Breeders that have been described as "probably the most used sketches in dairy cattle breeding history in the world."
In National Dairy Shrine circles, Baird developed many of the original exhibits for the museum. Through this experience, he authored the book Dairy Collectibles. Original paintings of the seven dairy breeds, now at the museum, are also Baird's handy work. He is also one of the few remaining people still alive to have been at the inaugural National Dairy Shrine meeting in Waterloo, Iowa. At that gathering he photographed portraits of the very first Guest of Honor, Dean H.H. Kildee.
Other Industry Pioneers honored last night were George Opperman, Charles Plumb, Francis Eustice and Don Seipt. To read in more detail about these honorees
read page 17 of our World Dairy Expo Supplement.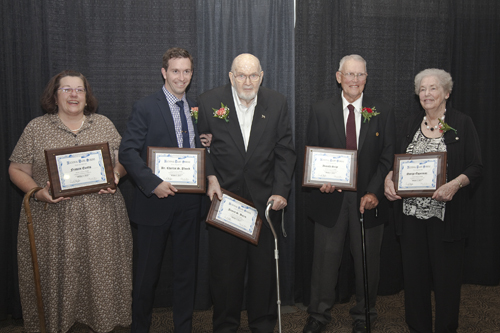 Accepting awards last night were daughter of Francis Eustis, great great grand son of James Plumb, James Baird, Don Seipt and Mrs. George Opperman.