Despite a late start due to the large Holstein heifer show, the sale went off with a bang. The United States and Canadian National Anthems started the evening and were presented by Wisconsin dairy producers Phyllis Agnew and her adult children Katie and Tom Agnew. Popping confetti exploded and alerted the crowd to the excitement that was about to begin and the history to be made that evening.
The first animal entered the coliseum sale ring with her well-known EX-97 dam, Hailey. Sired by Sid, young Hailee sold for $30,000 and was consigned by Gen-Com Holsteins of Quebec.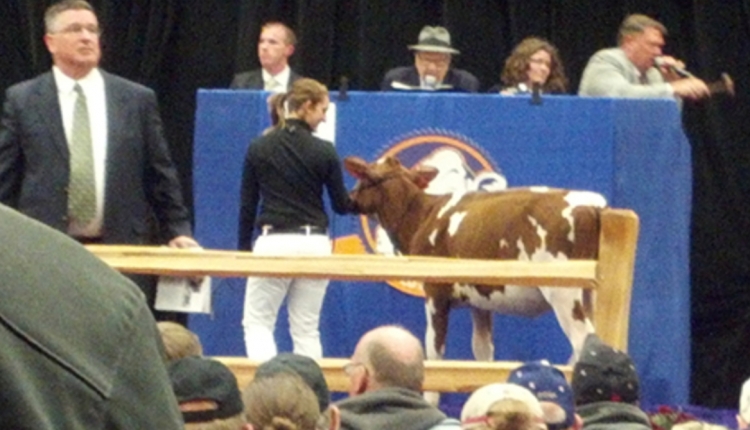 Red and polled were the order of the day. Two Red and White Holsteins fetched the highest prices of the evening at over $100,000 each.
The highest selling lot of 12, demanded a price tag of $122,000 and was a homozygous polled Colt-P daughter, Elm-Park Geisha PP-Red-ET. Her dam is a Goldwyn that hails from Roxy, the "Queen of the Breed" maternal line. Elm Park Farms and Randy Kleinhans were the consignors and her new owner is David Jones, Sahara Holsteins in the United Kingdom.
Lot 11, sired by Kings-Ransom O Dakker-ET sold for $115,000. She is the #1 GTPI (+2405 GTPI) and #1 Net Merit (+790 NM$) Red and White in the United States. Pie-Red is a potential ninth generation Dam of Merit. She was consigned by Rick Faber and Pond Hill Dairy of Wisconsin and the new addition for Alta Genetics, Alberta, Canada.
First choice female sired by Mountfield SSI Dcy Mogul-ET and from Benner Fork Janardan was the third highest selling lot. Choice of the six pregnancies carry a +2503 PTPI. Consigned by Tranquilty Farms and TAG S.E.C. of Quebec, the choice was the selection of Tim Rauen of Iowa.
Friday night's World Classic was managed by Tom Morris Ltd. The 45 lots averaged $33,111 for a total gross sale of $1,490,000! That is the highest averaging sale ever at World Dairy Expo! Dave Rama served as auctioneer as Horace Backus and Roger Turner shared sale announcement duties. Buyers were from 11 states, four Canadian provinces and five foreign countries.
The list of buyers can be found
here.