State Convention-based event attracts a wide range of attendees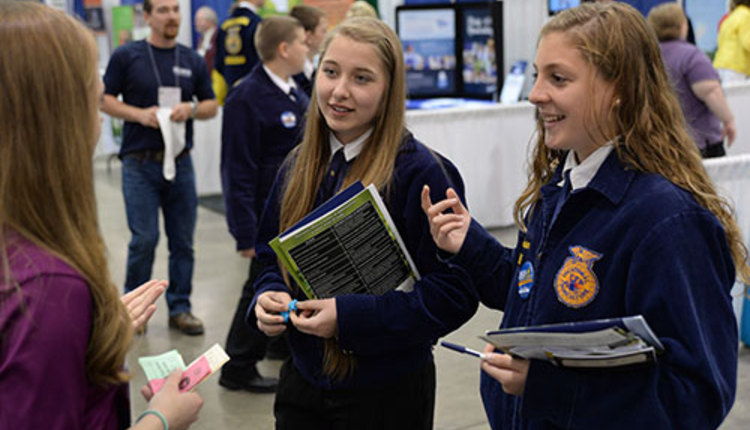 The Wisconsin FFA Foundation welcomes exhibitors to register for the one-day Career Show to be held this summer at the 87th Wisconsin FFA Convention. Industry and educational exhibitors can reach many FFA members and guests during the Wisconsin FFA Career Show on Wednesday, June 15, in the Exhibition Hall of the Alliant Energy Center in Madison.
The FFA Career Show is an educational, as well as recreational, event which has become a draw for parents, students and intern candidates. Exhibitors at the event build brand awareness, and have a unique opportunity to showcase new initiatives and seek out FFA student leaders as future job candidates.
Many booths have interactive elements, which has been an exciting part of the event. One of these interactive segments is in the distribution of "FFA Bucks". Exhibitors are given FFA Bucks which FFA members are able to earn for participation and good behavior, then later use to purchase auction items.
"The annual Career Show has become a mainstay of Wednesday's exciting events at State Convention," says Sara Schoenborn, executive director of the Wisconsin FFA Foundation. "Exhibitors and attendees alike look forward to the opportunity to learn more about each other, and simply enjoy another fun experience at the June convention."
The Wisconsin FFA Foundation, a 501 (c)(3) organization, unites individuals, organizations and companies who share a common interest in the advancement of agriculture and community leadership through FFA. You can support today's FFA members by supporting the programs that have been core tenets of the FFA: proficiency awards, career development events, state FFA degrees, sectional leadership workshops, scholarships, chapter awards, agri-science fair, state FFA convention and state officer support. Learn more about the Wisconsin FFA Foundation and sponsorship opportunities by visiting
www.wisconsinffafoundation.org
.
Return to Industry Buzz.
4.14.2016