Two important questions to ask yourself as a dairy farmer are, "Do you use the resources at hand to overcome your herd health obstacles?" and "Do you use the resources at hand to make changes to better your herd's condition?"
At Hillcrest Farms, we have put together what we like to call the herd health "Dream Team." We have reached out and expanded our resources for questions, concerns, and obstacles that we may encounter in our herd. Within this dream team we have our nutritionist, Holly Ballentine; veterinarians Darrel Wester, Bob Patrick, and Jana Powel; and University of Georgia's Clinical Assistant Professor of Dairy Production Medicine Emmanuel Rollins.
When making decisions on the farm, be it ration updates, vaccination changes, health concerns, and so forth, we pull in our dream team resources to make the right choices. It is important to use these different resources because of the new research and information that is continuously being tested to better herd health.
One example of this could be if we have a forage change in the ration. During this time of conversion, we may see a drop in feed intake or maybe the cows' manure starts to become loose. At this time, we reach out to a couple of the members of our team to see what would be the best way to improve the herd's health in this situation.
Don't be afraid to ask questions or take advice into consideration. These resources are out there for your use. There is always new information coming out from clinical trials to enhance heard health. Reach out and ask questions, ask for opinions, and ask for new information — hey, it can't hurt to ask.
---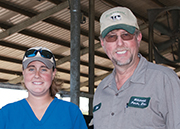 Mark and Caitlin Rodgers are dairy farmers in Dearing, Georgia. Their "Father and Daughter Dairy Together" column appears every other Thursday on HD Notebook. The Rodgers have a 400-cow dairy that averages 32,000 pounds of milk. Follow their family farm on Facebook at Hillcrest Farms Inc.