The information below has been supplied by dairy marketers and other industry organizations. It has not been edited, verified or endorsed by Hoard's Dairyman.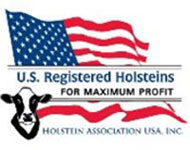 Daniel Kitchen of Danville, Pa. is the recipient of the 2017 National Judi Collinsworth Outstanding Exhibitor Award from Holstein Association USA, Inc. This award recognizes youth for their outstanding Holstein project work and involvement with their cattle and dairy activities. Kitchen is the thirteenth Junior Holstein member to receive this honor, and receives a $500 scholarship.
The Judi Collinsworth Outstanding Junior Exhibitor Memorial Award is presented annually, in memory of former Holstein Association USA Executive Director of Member and Industry Services, Judi Collinsworth. Winners are selected at each of the four National Junior Holstein Shows, based on sportsmanship, herdsmanship and level of participation in Holstein activities. All winners receive a $250 scholarship and are invited to apply for the National Judi Collinsworth Outstanding Junior Exhibitor Award.
Kitchen is the 20-year-old son of Randall and Patricia Kitchen, and is working towards his degree in animal science at the Pennsylvania State University. He enjoys being involved in their home operation, Kitch-Vue Dairy Farm, caring for calves, assisting in herd health management and preparing animals for the showring. Upon graduation, Kitchen plans to return to the family farm and pursue a career as a dairy nutritionist.
"This award recognizes years of hard work, not only in the show ring, but also at home on the farm," said Kitchen. "I look back at other recipients of this award and their success in the industry today and I'm humbled to be included in this group. This award gives me motivation to continue working with, breeding and developing quality Registered Holstein cattle."
Kitchen has been an active member of the Pennsylvania and National Junior Holstein Associations for the past 10 years. He annually attends Holstein conventions and has competed successfully in several activities, including dairy jeopardy, the folding display contest and prepared public speaking at State and National levels. Kitchen served as a member of Pennsylvania's Junior Holstein Association Executive Committee for three years. Recently, Daniel placed first in the All-American Youth Fitting and Showmanship Contest in Harrisburg, Pa.
Kitchen received the Judi Collinsworth Outstanding Junior Exhibitor Memorial Award at the Premier National Junior Holstein Show. Other winners at 2017 National Junior Holstein Shows include Jill Seiler, Valley Center, Kan., Southern Spring National Junior Holstein Show; Rachel McCullough, Juda, Wis., International Junior Holstein Show; and Erin Leach, Linwood, Kan., Grand National Junior Holstein Show.
The application for the Judi Collinsworth Outstanding Junior Exhibitor Memorial Award is available online at
www.holsteinusa.com/juniors
, or at each of the four 2018 National Junior Holstein Shows. For more information on Holstein youth activities, contact Kelli Dunklee at
kdunklee@holstein.com
or 800.952.5200, ext. 4124.

Holstein Association USA, Inc.
,
www.holsteinusa.com
, provides products and services to dairy producers to enhance genetics and improve profitability–ranging from registry processing to identification programs to consulting services.
The Association, headquartered in Brattleboro, Vt., maintains the records for Registered Holsteins® and represents approximately 30,000 members throughout the United States.