Cornell takes home collegiate judging honors after the tie with Virginia Tech is broken. Carissa Levash from UW-Madison top individual.
The 91st annual Collegiate Judging contest in Madison, Wisconsin was a battle until the end. The two teams, Cornell and Virginia Tech, after results were calculated, were tied with a score of 2,485 points. The tie was broken by the teams reasons scores, with Cornell pulling out ahead. The team, Matthew Sharpe, Tyler Reynolds, Kelly Lee, and Richard Hall, was coached by David Galton. All four team members also received All-American honors.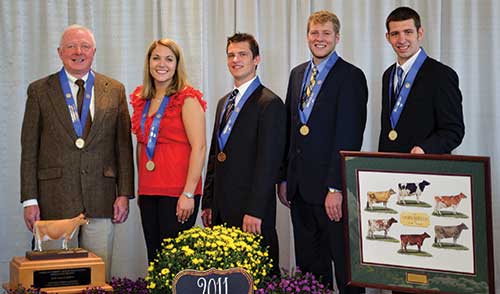 Above: Caitlin Durow, University of Minnesota, High Reasons
The top individuals for reasons included Kelly Lee of Cornell in fifth. Carissa Levash from UW-Madison in fourth. Tera Koebel of Michigan State in third, a few points behind Matt Mitchell, University of Tennessee, in second. Caitlin Durow, University of Minnesota finished ahead of the pack averaging 47.5 points per class.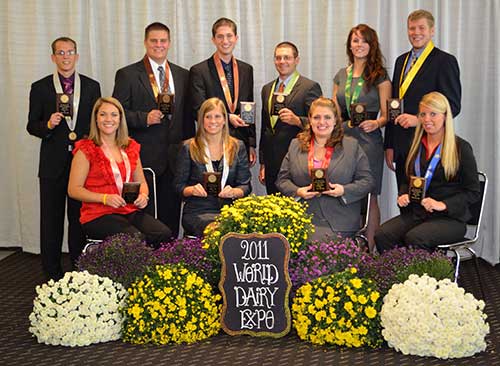 Above: Top 10 High Individuals
Additionally the top 10 overall were Carissa Levash of Madison, Caitlin Durow from Minnesota, Carissa Doody of Virginia Tech, Kelly Lee and Richard Hall of Cornell. In sixth was Katie Arndt from Michigan State. Matt Mitchell of the University of Tennessee, Jason Zimmerman and Austin Schwartzbeck of Virginia Tech, followed. The group was rounded out by Nathan Oleniacz of Penn State.
Top Reasons Team: Michigan State
The top reasons teams were Michigan State (averaging 45.87 points) followed by University of Minnesota, Cornell, UW-Madison and Virginia Tech.

For the newly developed placings only award, top honors went to Richard Hall of Cornell. He was joined by Carissa Doody at Virginia Tech, Krysty Kepler of UW-Plattevile, Carissa Levash of Madison and Kelly Lee also from Cornell.

To see all of the Collegiate results click here

Return to Hoard's at Expo homepage