With each of its four team members winning a different breed and the group topping the contest in reasons, Virginia Tech claimed victory in the Intercollegiate Dairy Cattle Judging Contest held at World Dairy Expo on October 2.
Being part of a team means combining each individual's strengths to support one another, and that's what the team from Blacksburg, Va., did on Sunday. Madison Sifford was the first team member to earn a blue ribbon when she was announced as the high individual in Brown Swiss. Next, Jenna Marston received top honors in Guernseys. Then, in a tight Milking Shorthorn race because there was just one class and one set of reasons in the division, Brooke Noel earned a hard-fought win with a perfect 100. In the final breed category, Jaiden Cain was the high individual in the Red and White breed.
Virginia Tech was the winning team in the Brown Swiss, Jersey, and Milking Shorthorn breeds. Additionally, they won the reasons division by 19 points, propelled by Sifford in sixth place individually, Noel in fifth, and Marston finishing first.
Overall, the team had two of the top four individuals in Sifford (second) and Marston (fourth). Their team win came by a margin of 36 points and marked the first time the school has won the competition since 2013.
The award for high individual in the contest went to Michigan State's Jessie Nash, who averaged a score of just under 47 on the day's 12 classes and six sets of reasons. She is just the fourth Spartan to ever win the contest and the first since 1962. Nash finished in the top 12 of four of the seven breeds and earned the day's high honor in placings only with a score of 575.
Along with Nash, Sifford, and Marston, the final member of the top four individuals was Marcus Marsigli from Cal Poly, who finished third. His team earned second overall with just three team members: Marsigli, who was also 14th in reasons, Ashley Waymire (seventh overall and seventh in reasons), and Katey Diniz (two top-10 breed finishes).
Purdue University earned its highest finish in decades by coming in third overall. Penn State followed in fourth, and Cornell University finished fifth. Fifteen teams competed in this year's event.
Cornell was the second-high team in reasons, led by Isabel Hall's third-place individual finish. The University of Minnesota earned third, Ohio State finished fourth, and Penn State was fifth.
Congratulations to all of the participants in this year's 101st Intercollegiate Dairy Cattle Judging Contest!
---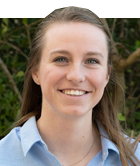 Katelyn Allen joined the Hoard's Dairyman team as the Publications Editor in August 2019 and is now an associate editor. Katelyn is a 2019 graduate of Virginia Tech, where she majored in dairy science and minored in communication. Katelyn grew up on her family's registered Holstein dairy, Glen-Toctin Farm, in Jefferson, Md.