Twenty teams and 76 individuals from around the country competed in the 100th National 4-H Dairy Cattle Judging Contest on Sunday, October 2, and at the end of the night, the team from Pennsylvania garnered the top spot. The decisive victory came by a whopping 44 points and is the first time the state won the contest since 2008.
The Keystone State was led by Sara Haag, who won Ayrshires and the placings only portion of the contest before being named high overall individual. Five points right behind her in second overall was her teammate Madelynn Hoffman. Morgan Smoker (sixth overall) and Ellie Curtis completed the team that won Jerseys and placings and was second in Brown Swiss and Guernseys.
Brianna Hill from Michigan finished third and led her team to second overall. She and teammate Grace Brown both earned two top-10 breed finishes, and another teammate, Laken Durussel, was the high individual in Brown Swiss. The team also included Irie Moussiaux, and the group finished first in Brown Swiss and second in Ayrshires.
On the day's five sets of reasons, Minnesota's Megan Ratka earned the best score and led her team to a top finish. She also received the special award for the top reasons score in the Brown Swiss breed, presented in honor of the late Lee Majeskie. Overall, Ratka finished seventh. Sibling strength powered Minnesota to third place overall as Tyler Ratka finished fourth individually and sixth in reasons.
Pennsylvania was the second place reasons team, with Haag earning fourth and Hoffman fifth. Michigan finished third, Texas fourth, and Iowa fifth in the reasons division.
Overall, Iowa ended up in fourth place for their best finish since 2005 with three team members all finishing in the top 20 individually. Texas rounded out the top five, marking the first time they landed in the top 10 since winning the contest in 1997.
Congratulations to all participants in the 100th National 4-H Dairy Cattle Judging Contest!
---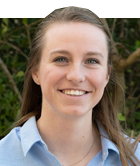 Katelyn Allen joined the Hoard's Dairyman team as the Publications Editor in August 2019 and is now an associate editor. Katelyn is a 2019 graduate of Virginia Tech, where she majored in dairy science and minored in communication. Katelyn grew up on her family's registered Holstein dairy, Glen-Toctin Farm, in Jefferson, Md.