Oakfield Solom Footloose-ET returned to World Dairy Expo this year as the reigning Reserve Grand Champion of the International Holstein Show. This time around, though, she was the one who took home the purple banner, and shortly after winning her breed show, she added to her hardware with a win as Supreme Champion of World Dairy Expo 2022.
Footloose (EX-94) showed as a five-year-old and is owned by Duckett Holsteins, Vierra Dairy, and Tim and Sharyn Abbott of Rudolph, Wis. Being named Supreme Champion literally runs in her blood, as her granddam is none other than Harvue Roy Frosty, the back-to-back Supreme winner in 2009 and 2010.
Following the Holstein for Reserve Supreme Champion was the Grand Champion Jersey. She is Rivendale VIP Eloise, the winning Junior Three-Year-Old and Intermediate Champion of the International Jersey Show. Vierra Dairy Farms of Hilmar, Calif., exhibited Eloise.
Among the seven junior champion animals competing for the title of Supreme Champion in the open show, the judges again chose the Holstein. Kingsway Alligator A Twix was the winning Winter Yearling the day before, and she was exhibited by Velthuis Farms Ltd. of Osgoode, Ontario, Canada.

Reserve Supreme Champion Heifer went to the Red and White, North Effect War Tatas-Red, owned by Chris and Jen Hill and Tim and Sharyn Abbott of Thurmont, Md. She was the first place Summer Yearling in the International Red and White Show.
Jerseys win the junior titles
Just like Footloose, the cow who earned Supreme Champion of the Junior Show also came back better than last year. Homeridge T Annette repeated as Grand Champion of the International Jersey Show, but this year, she was also able to capture the title of Supreme Champion after being named Reserve Supreme Champion in 2021. The four-year-old Annette is owned by Kylie and Dawson Nickels, Budjon, Vail, Cunningham, and Powers of Lomira, Wis.
Hannah and Mark Balthaser of Bernville, Pa., claimed Reserve Supreme Champion honors with their Grand Champion Brown Swiss, Northkill Creek Groovy. Groovy was the winning Five-Year-Old and Reserve Grand Champion in the International Brown Swiss Show in addition to her top finish in the junior show.

The Supreme Champion Heifer of the Junior Show was the Jersey Fall Calf that claimed Junior Champion of both the open and Junior Jersey shows. Rivendale Venue Colby Jack-ET is owned Trace Johnson and Sarah Fitzgerald from Poplar Grove, Ill.
Following as Reserve Supreme Champion Heifer of the Junior Show was the Red and White Junior Champion. That was the winning Fall Calf, W-Brook Hottest-Red, exhibited by Hawvermale, Spreng, and Hinz of Wooster, Ohio.
---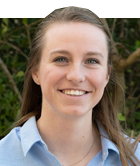 Katelyn Allen joined the Hoard's Dairyman team as the Publications Editor in August 2019 and is now an associate editor. Katelyn is a 2019 graduate of Virginia Tech, where she majored in dairy science and minored in communication. Katelyn grew up on her family's registered Holstein dairy, Glen-Toctin Farm, in Jefferson, Md.