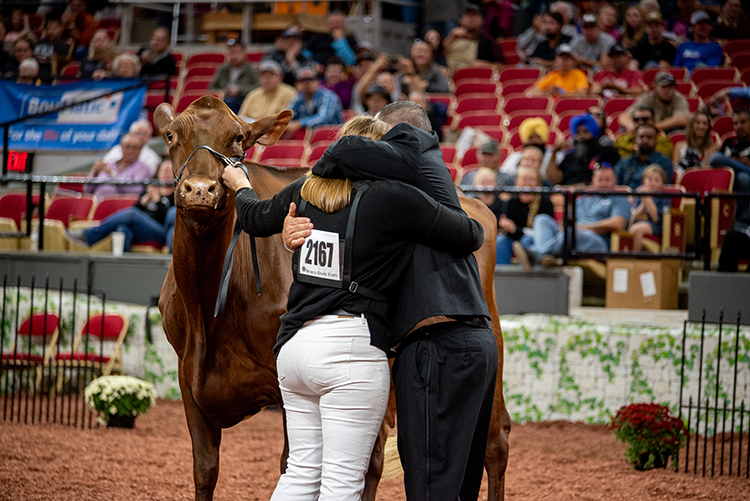 It was a lucky day for Millcreek Lottery Ladyluck as she was selected as Senior Champion and then Grand Champion of the International Milking Shorthorn Show on Thursday for Taylor Graves of Danville, Ky.
The winning Aged Cow wasn't relying on luck, though. Judge Brandon Ferry of Hilbert, Wis., said the red cow was on the money with her balanced frame, beautiful udder, and correct feet and legs as he selected her as the winner of what he called a sensational show.
Ferry and his associate Mike Gregory of Hebron, Ill., then tapped the Reserve Senior Champion and first place Five-Year-Old as Reserve Grand Champion. She was Gin-Val Logic Lauretta-EXP, exhibited by Cory and Kristen Salzl of Litchfield, Minn.
When naming Intermediate Champion, Ferry and Gregory went with the top pair of Senior Two-Year-Olds. Winning that class of 13 and earning the champion banner was Heavenly Hushpuppy-EXP, exhibited by Tyler Endres and Peter Vail of Reedsburg, Wis. Second in the class and Reserve Intermediate Champion went to Allen Van Gorder, Glenn McNeil, and Gram Rozler of Little Falls, N.Y., with Garys Christos Saffron.
There were 112 heifers shown on Wednesday, and Junior Champion was awarded to Lands-Brook KnH Chilli Pepper, owned by Peter Vail of Englewood, Fla. "When she comes in class, she floors you," said Ferry of his roan winning Fall Yearling.
Three of the five heifers pulled out for Junior Champion were exhibited by junior members, and Reserve Junior Champion of the Open Show went to the Junior Champion of the Junior Show. Judge Ferry said Maunesha Creek Excite Me-EXP was cut from the same cloth as his Junior Champion with her width and uphill run. Excite Me was the first place open and junior Fall Calf leased by Justin Brandel and owned by Mena Schmitt from Lake Mills, Wis.
In the Junior Show, she was followed by another Open class winner for Reserve Junior Champion. Old-N-Slow Lapdance-EXP-ET was the first-place Winter Yearling for Dana Johnson of Tomah, Wis.
Among the junior-owned cows, Heavenly Zora walked away with the Grand Champion banner for Dillon Freeman of Bremen, Ind., for the second straight year. She was the first place Five-Year-Old and Senior Champion.
Reserve Grand Champion went to the Intermediate Champion. Lazy-M-Jk Lady In-Red-EXP was the top Junior Three-Year-Old for Aubree, Aiden, and Alaina Topp of Botkins, Ohio.
Reserve Senior Champion was Corstar Mixin-It-Up-EXP-ET P, the top Four-Year-Old, for Cadence Spearman of West Concord, Minn. The Reserve Intermediate Champion was Lazy M Jekyll Zella-EXP, the winning open and junior Senior Three-Year-Old exhibited by Britton Allen of Belmont, Wis.
Lazy M Farm, Michael and Herman Maier, of Stitzer, Wis., took home both Premier Breeder and Premier Exhibitor of the show. The Premier Sire was North Stars Famous Patriot-EXP.
---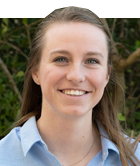 Katelyn Allen
Katelyn Allen joined the Hoard's Dairyman team as the Publications Editor in August 2019 and is now an associate editor. Katelyn is a 2019 graduate of Virginia Tech, where she majored in dairy science and minored in communication. Katelyn grew up on her family's registered Holstein dairy, Glen-Toctin Farm, in Jefferson, Md.