Heineman Reagan Roz, owned by Angela Fuller of Attica, N.Y., isn't new to the winner's circle at World Dairy Expo after being Reserve Grand Champion in 2022. "This four-year-old is the total package. She's got that width, that strength, that dairyness, and a huge rear udder," said Kurt Wolf of Guttenberg, Iowa, as he selected Roz as his 2023 Grand Champion cow. Roz was also the Senior Champion of the show. Old-Bankston Jc Banner, owned by Glamourview-Iager and Walton of Walkersville, Md., followed closely behind, claiming the title of Reserve Senior Champion and Reserve Grand Champion.
The Junior Three-Year-Old, Vieux Village G Montana, exhibited by Florent Foley, of Piopolis, Quebec, was Intermediate Champion. Heineman Kingsire Cold Brew, also owned by Angela Fuller, of Attica, N.Y. was named Reserve Intermediate Champion.
The trend of selecting the Senior Champions for Grand Champion continued into the Junior Show. Toppglen Wishful Thinking-ET owned by Tanner, Brennan, Marissa, and Logan Topp, of West Salem, Ohio, was named Grand Champion and Senior Champion of the Junior Show. The Reserve Grand Champion and Reserve Senior Champion was Moy-Ayr Predator Lively shown by Steve, Pauline, Rebecca, and Emily Schmidt, of Delavan, Wis.
That group also had the Intermediate Champion of the Junior Show, Moy-Ayr Berkely Darling. Sco-Lo Kingsire Boom, owned by Cannon and Arnold, of Dyersville, Iowa, was awarded the title of Reserve Intermediate Champion.
Things heated up on Monday afternoon when the Ayrshire heifers entered the ring. It was the first and second place Fall Calves that received top honors. Wolf and associate judge, Steve Searles of Pine Island, Minn., selected Stylin Reynolds Monroe, shown by Leslie and Linda Bruchey of Westminster, Md., as Junior Champion of the Open Show. Grand-View Champ Dyna, owned by Jacob, Logan, and Madison Harbaugh, of Marion, Wis., was Reserve Junior Champion. Additionally, Dyna was named Junior Champion of the Junior Show. The Summer Yearling, Bricker-Farms Champions Choice, shown by Callen and Dawson Damrow and Abby Porte, of Pocatello, Idaho, was Reserve Junior Champion of the Junior Show.
As the dust cleared, Sunny Acres Farm of Georgetown, N.Y., received the honor of both Premier Breeder and Exhibitor. In the Heifer Show, the Premier Breeder was Budjon-Vail, of Lomira, Wis., and Peter Vail, Mile High, of Englewood, Fla., was the Premier Exhibitor.
---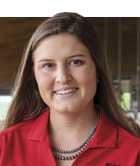 Madison Sifford
Madison Sifford was the 2023 Hoard's Dairyman Editorial Intern. She is a student at Virginia Tech majoring in dairy science and communications. Madison grew up in North Carolina before moving with her parents and sisters to Goldvein, Va. Her family raises Holsteins on their Plessed-Rose Dairy, and they also have a small Hereford cow-calf operation.