It was the 4-year-old, Premium Apple Crisp Lilly-Red, owned by Jim Butler of Chebanse, Ill., that secured top honors by being named Senior Champion and Grand Champion in the International Red and White Show. Following closely behind was last year's Grand Champion, Ransom-Rail Beth-Red, owned by Milk Source, Ransom-Rail, and Fischer of Kaukauna, Wis., taking home a triple win by being named Reserve Senior Champion, Reserve Grand Champion, and Champion Bred and Owned.
Judge Phillip Topp of Botkins, Ohio, alongside his associate, Tanner Schmaling of Elkhorn, Wis., found a pair of senior 3-year-olds in the younger cow division. Golden-Oaks Temptres-Red-ET owned by Milk Source, Fischer, Steincrest, and Crescentmead of Kaukauna, Wis., was awarded Intermediate Champion. Reserve Intermediate Champion was Willye Srndptous Legacy-Red shown by Oakfield Corners Dairy of Oakfield, N.Y.
In the Junior Show, attendees saw another triple win when Synergy Spikes Sequel-Red, owned by Jacob and Claire Betley and Evan Jauquet of Pulaski, Wis., was selected as Grand Champion, Senior Champion, and Champion Bred and Owned. Luck-E Diamond Tonto-Red, exhibited by Jacob Menzi of Millport, N.Y., was named Reserve Senior Champion and Reserve Grand Champion.
Schluter Atlanta-Red-ET, shown by Matthew and Elizabeth Gunst and Evan Hathaway of Hartford, Wis., was awarded Intermediate Champion of the Junior Show. Cherry-Lor Warrior Lime-Red, owned by Phillip Mccormick of Milmont, Pa., was Reserve Intermediate Champion.
The judges sorted through 216 heifers on Wednesday afternoon to select their junior champion. "This Summer Yearling kind of puts it all together," said Topp, as he selected Sco-Lo Dc Rogue2470-Red-ET, owned by Fly Higher, Elmlo, Andy and Whitney Reynolds, and Mackenzie Reynolds of Corfu, N.Y., for Junior Champion. The winter yearling, Betley Lightsout-Red-ET shown by Claire and Jacob Betley, of Pulaski, Wis., was named Reserve Junior Champion.
This is the same heifer that was selected as Junior Champion and Champion Bred and Owned of the Junior Show. Kamryn, Kate, and Colt Kasbergen from Tulare, Calif., had the Reserve Junior Champion of the Junior Show with Betley Warrior Lynx-Red.
At the end of the heifer show, Premier Breeder and Premier Exhibitor were given to Bella-Ridge, Harbaugh and Loehr families, from Marion, Wis. The Premier Sire was Mr Blondin Warrior-Red-ET.
For the cow show, Premier Breeder went to Kress-Hill Dairy, of Newton, Wis., and Premier Exhibitor honors went to Oakfield Corners Dairy, from Oakfield, N.Y. Riverdown Unstopabull-Red was the Premier Sire.
Judge Topp completed the show by saying, "What a show, outstanding quality all day." These words have rang true throughout all shows here at the 2023 World Dairy Expo.
---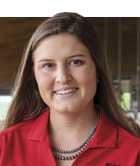 Madison Sifford
Madison Sifford was the 2023 Hoard's Dairyman Editorial Intern. She is a student at Virginia Tech majoring in dairy science and communications. Madison grew up in North Carolina before moving with her parents and sisters to Goldvein, Va. Her family raises Holsteins on their Plessed-Rose Dairy, and they also have a small Hereford cow-calf operation.