When profit margins get tight, it's not uncommon for dairy operations to look for opportunities to cut costs. The goal should be to make strategic cost cutting decisions that do not impact the production potential of an operation.
An area that may offer some cost-saving benefits are bred heifer diets. Forages in the bred heifer diets can be rearranged and potentially offer significant savings, says Jason Leonard, calf and heifer specialist with Purina Animal Nutrition.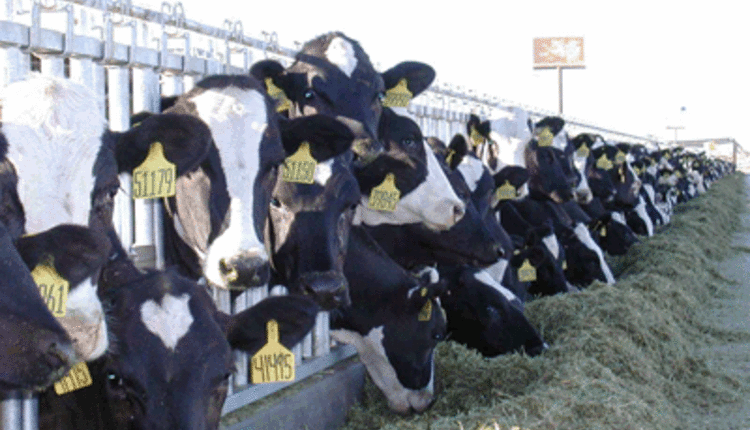 Bred heifers typically receive minimal attention on an operation and rations have not changed greatly in recent years. "It's not uncommon for bred heifers to be fed free-choice corn silage and grass hay along with 5 pounds of grain," says Leonard. "Not only is this diet expensive, it can create over-conditioned heifers with post-calving problems." Corn silage hybrids have evolved over the years and have generally gotten higher in quality to the point that they are too energy dense to feed to bred heifers as their main forage source, he explains.
Leonard notes that a simple way to fix this problem and save money is to feed a high quality hay, haylage or small grain silage in place of the corn silage. "Many farms already have these feedstuffs in abundant supplies or could have them with a slight tweak of planting and harvesting plans," he says. These forages, when made correctly, can supply 100 percent of the energy and protein needs of the bred heifer without the use of purchased grains or proteins.
A diet like this normally only requires the purchase of a mineral pack that may have a feeding rate of 0.10 to 0.50 pounds depending on the mineral make-up of the forage. "The program mentioned above that incorporates 5 pounds of grain includes a mineral so this cost is already included. Adjusting to the new feeding program saves more than 4.5 pounds of grain that could be used for other animals on the farm or grain exchanged, versus the cost of your mineral," says Leonard.
"If you are tight on forage supplies and buying grain or commodities is easier to manage, a limit-feeding approach should be looked at," he says. University research on this type of feeding program has shown results while saving the farm money on heifer inputs. Penn State's research and suggestions for limit-feeding heifers can be found on the following website: http://bit.ly/SN2noF.
Times are tough and everyone is being forced to be more efficient, but regardless of which feeding strategy chosen, heifers need a reliable source of vitamins and minerals to help metabolic functions during times of stress and to support the overall immune system health and function.
For more information contact your Purina Animal Nutrition representative or call 1-800-237-9895.
Purina Animal Nutrition LLC
is a national organization serving producers, animal owners and their families through more than 4,700 local cooperatives, independent dealers and other large retailers across the United States. Driven by an uncompromising commitment to animal excellence, Purina Animal Nutrition is an industry innovator, offering America's leading brands of complete feeds, supplements, premixes, ingredients and specialty technologies for the livestock and lifestyle animal markets. Headquartered in Shoreview, Minn., Purina Animal Nutrition LLC is a wholly owned subsidiary of Land O'Lakes, Inc.
10.23.2012