This morning and afternoon 13 collegiate dairy judging teams and more than 50 students are evaluating cattle and preparing their reasons in hopes of being named a national champion. That distinction is an incredible honor in any year. This year's winning team and individual, though, will also be able to say that their victory came in the 100th National Intercollegiate Dairy Judging Contest. First held in 1916, the contest has only ever been put on pause twice, for three years during World War II and last year due to COVID-19.
For its first 50 years, the competition was held at the National Dairy Cattle Congress in Waterloo, Iowa. The very first event drew teams from four schools, and Iowa State University is the only institution that has participated in every one of the previous 99 contests. Following is the University of Minnesota with 97 appearances, the University of Wisconsin-Madison with 96, and Kansas State University with 95.
In the earliest years of the contest, students judged one cow class and one bull class of Ayrshires, Guernseys, Holsteins, and Jerseys. In 1932, Brown Swiss classes were added.
By the 1960s, shifts in the industry resulted in the elimination of bull classes and the contest changing locations to the North American Dairy Show in Columbus, Ohio. It remained there for a decade before moving to its home for the last 44 years in Madison, Wis., at World Dairy Expo. The number of competitors peaked in 1979 when 41 teams were entered.
The contest expanded once again in 1982 when Milking Shorthorn classes were added. Red and White Holsteins joined in 2001, giving all seven dairy breeds recognized by the Purebred Dairy Cattle Association a place in the national intercollegiate contest. The most recent adjustment came in 2018 when contestants did not hand in placing cards for each class but rather entered their decisions on ringside iPads, allowing for much faster scoring and tabulation of results.
Participating in this contest at World Dairy Expo is a dream come true for many youth, often evidenced by years of detailed study and practice. Decision-making, prioritization, and public speaking skills are all honed and put to the test on the national stage. No matter who comes out on top tonight, those are lessons that each contestant — including the 4-H and post-secondary students — will carry with them for life.
If you can't be at tonight's dairy judging banquet, be sure to follow Hoard's Dairyman Facebook page where we update results as they're announced.
Hoard's at Expo is sponsored by Agri-Plastics Group of Companies
---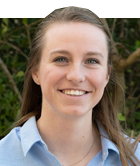 Katelyn Allen joined the Hoard's Dairyman team as the Publications Editor in August 2019 and is now an associate editor. Katelyn is a 2019 graduate of Virginia Tech, where she majored in dairy science and minored in communication. Katelyn grew up on her family's registered Holstein dairy, Glen-Toctin Farm, in Jefferson, Md.