Just about anything is available on our phones these days — even the global dairy industry's meeting place.
If you're making your way to Madison for this week's events and haven't already downloaded the official World Dairy Expo app to your smartphone, you're going to want to do just that. It's your best way to stay on top of everything that's happening so you can experience the events and meet the people you want to.
First-time attendees will appreciate the maps feature that allows you to get the lay of the land, from trade show exhibitors to cattle barns to shopping and food. In fact, this year's upgrades to The Tanbark and Trade Center make the maps a good idea for even a seasoned Expo professional.
Of course, to know where you want to be, you have to know what's going on. Daily schedules are accessible on the app to keep track of cattle shows, educational sessions, award recognitions, and all of the other events that fill the week. By favoriting certain events, you can bookmark them for future access to build your personal schedule.
Here's a pro tip: favoriting the GEA Ice Cream Stand and Badger Dairy Club Cheese Stand will make sure you never miss out on each day's special flavors.
As you're enjoying a grilled cheese or cup of ice cream, you can again use the app to find exactly where in the Exhibition Hall or barns that specific company or farm you're looking for is located. The animal search feature allows you to search the barns by state, cattle, or exhibitor name.
We know that Expo is all about connections, and the app can even help facilitate that networking. When a user downloads the app and creates an account, a personalized QR code will be generated for them. This code can be scanned by other attendees to store your contact information on their devices. Think of it as an electronic business card!
Finally, the app gives you an easy way to enter the Railbird Judging Contest. One cow class in each breed show will be included in the contest, and after making a profile on the app, you can receive a notification of when it's time to judge and enter.
If you're not yet convinced to download the app, World Dairy Expo has another incentive for you. Anyone who makes a user profile on the app before October 2 is entered to win an exclusive trip to Nashville, Tenn. The package includes two tickets to an album release party at the Opry for Dillon Carmichael (who is headlining the Sunset Celebration Friday night of Expo) on October 19, two tickets to a private Mitchell Tenpenny concert on October 20, and a $2,000 travel voucher. Three winners will be selected on October 4.
There's so much to see and do during Expo that it can be overwhelming to keep everything straight. Luckily, your personal assistant for the week can be just a click away!
Hoard's at Expo is sponsored by Agri-Plastics Group of Companies
---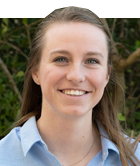 Katelyn Allen joined the Hoard's Dairyman team as the Publications Editor in August 2019 and is now an associate editor. Katelyn is a 2019 graduate of Virginia Tech, where she majored in dairy science and minored in communication. Katelyn grew up on her family's registered Holstein dairy, Glen-Toctin Farm, in Jefferson, Md.