If you have ever attended World Dairy Expo, you know about the sense of community on the grounds of the Alliant Energy Center. The annual celebration often feels like a family reunion of dairy lovers.
Among the crowds of showmen, vendors, and grilled cheese pursuers are professionals with hindsight of where the industry is moving and how dairy farmers can be better formulate for success. New this year, World Dairy Expo was able to showcase those experts and share their thoughts with the "Tanbark Talks" series.
In place of the Arena, the building that was once located between the Coliseum and the Trade Center with rows of vendors, is the Tanbark. The area now serves as a beautiful home to a banquet seating and a stage to welcome speakers for ceremonies and presentations.

Over the course of three days at Expo, attendees were about to start their mornings with futuristic insights and discussions. On the first day, Bob Johansen, a consultant of the Army War College and author, explained the "VUCA" world we live in.
VUCA stands for volatile, uncertain, complex, and ambiguous. As we look to the future of the dairy industry, Johansen explained, "You can have clarity, but you can't have certainty." When thinking about the upcoming years of the operation and how to move forward with the operation, he suggested to think of every scenario should occur.
"Think of the range of what should happen," Johansen instructed. When discussing a previous project he worked on, he said they created transformation, constraint, growth, and collapse models. By picturing anything that might happen, you can be prepared for the best and worst.
He shared that he is excited to see what young generations offer as they enter the workforce. Johansen said that the 18- to 25-year-old age group is much more immersive. When teaching them, he suggested live simulators and hands-on trainings as that is how they prefer to obtain information, especially as they grew up in the age of technology and video gaming.

Later during the Tanbark Talk, a panel of industry professionals shared their comments on how checkoffs are working to operate around the VUCA world and the needs of the younger audience. Panelists included Tom Callagher, CEO of Dairy Management Inc. (DMI); Dwyer Williams, Chief Transformation Officer of DMI; Lee Kinnard, CEO of Kinnard Farms; Peter Vitaliano, Vice President of Economic Policy at National Milk Producers Federation; and Eve Pollet, Senior Vice President of Strategic Intelligence at DMI.
The following day, a live taping of the U.S. Farm Report took place during the Tanbark Talk. Host Tyne Morgan interviewed Mike North, principal of ever.ag; Ben Laine, vice president of Rabo AgriFinance; and Dan Basse, president of AgResource. The discussion focused on markets, trends, and innovating dairy to better appeal younger audiences.
To round out the series, Damian Mason, author, businessman, and agriculturalist, spoke on the outlook of the industry with humor inserted throughout the presentation.
World Dairy Expo's new "Tanbark Talks" embrace the future of dairy with discussions of innovation and marketing to the upcoming audience.
Hoard's at Expo is sponsored by Agri-Plastics Group of Companies
---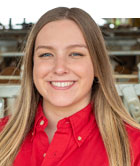 Jessica Schmitt
Jessica Schmitt grew up working on her family's dairy farm near Fort Atkinson, Iowa. She recently completed her junior year at Iowa State University where she is triple majoring in dairy science, international agriculture, and agricultural and life sciences education with a communications option. Schmitt served as the 2021 Hoard's Dairyman editorial intern this summer.