World Dairy Expo 2022 kicked off with youth contests on Sunday, October 2, including the three divisions of dairy cattle evaluation. In the 33rd annual International Post-Secondary Dairy Cattle Judging Contest, just four points separated the top two teams, but it was the State University of New York's College of Agriculture and Technology at Cobleskill (SUNY Cobleskill) that came out on top.
This is the school's fourth victory in the past five years. This year's win was anchored by first-place team finishes in three breed divisions, three team members in the top 10 individually, and a second-place finish in team reasons. Kailey Kuhn led the way with a second-place finish overall. She was also second in the placings contest and second in reasons.
Not far behind in overall placings were her teammates Karrie Ayer in fifth place and Addison Hubbell in sixth place. These three young ladies finished first, second, and third, respectively, in the Brown Swiss breed.
Kuhn also won the Jersey breed, while Hubbell placed fourth. Kuhn earned the second spot in the Milking Shorthorn breed, and Hubbell collected another fourth-place finish in the Red and White breed. Ayer was second in Holsteins and Kuhn was third. Teammate Kyler Meisner finished fourth in the Holsteins and Guernseys. The team was coached by Carrie Edsall.
The second-place team was Kaskaskia College from Illinois. Under the leadership of coach Aaron Heinzmann, the Kaskaskia team also finished first in oral reasons. Team member Jacob Raber had an outstanding day, finishing as high individual overall and first in placings. In addition, he won the Holstein breed and finished third in the Jerseys.
Raber's teammate Naomi Scott finished sixth overall, while Nick Hammer was eighth. Jackson Brammeier completed the team.
The day's best talker was Hammer, who won the reasons portion of the contest. He finished ahead of Kuhn in second, Hubbell in third, Modesto Junior College's Hartley Silva in fourth, and Scott in fifth for individual reasons.
The third team overall was Modesto Junior College, and they were also third in reasons. Silva led the Modesto judges with a third-place finish individually, while her teammate Anthony Diniz took fifth. Their team was coached by Nicole Morris.
In fourth place was the team from Michigan State University, coached by Joe Domecq, Kirby Krogstad, and Sarah Black. The fifth-place team was the University of Minnesota Crookston, coached by Harouna Maiga.
Modesto Junior College led the way In the Post-Secondary Practical Contest, capturing first-place honors. Following in second place was Southwest Technical College Team #1, and Kaskaskia College was third. The practical contest is a unique feature of the post-secondary competition and is held the evening prior to the judging contest.
Congratulations to all participants in the International Post-Secondary Dairy Cattle Judging Contest!
---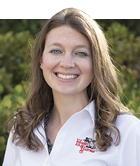 Abby Bauer
The author is the senior associate editor and covers animal health, dairy housing and equipment, and nutrient management. She grew up on a dairy farm near Plymouth, Wis., and previously served as a University of Wisconsin agricultural extension agent. She received a master's degree from North Carolina State University and a bachelor's from the University of Wisconsin-Madison.