Youth contests, cattle shows, and awards banquets have already brought hundreds of dairy enthusiasts together at this year's World Dairy Expo. Today, the final piece of the puzzle kicks off to put the new schedule of a six-day event with a five-day cattle show and a four-day trade show into high gear. The trade show officially opened at 9 a.m. this morning, and educational sessions also start today.
Although commercial exhibitors are used to Tuesday being opening day, this year's schedule means Friday will be the last day of the trade show — along with the rest of the event — rather than Saturday. Shortening the time companies had to staff booths and removing the weekend time were two of the factors Expo leadership took into consideration to adopt a new event schedule.
Over the next four days, the Coliseum, Exhibition Hall, Trade Center, and Outdoor Trade Mall will be abuzz with the newest technologies, tools, and ideas the dairy industry has to offer, as well as reliable products and services the industry has enjoyed for years. The trade show provides an opportunity for farmers to find solutions to benefit their businesses and those who support dairy farmers to stay up to date with the latest advancements the industry has made.
There is a lot of information available on the Expo grounds this week, so to keep track of it all, you can download the World Dairy Expo app to search for and explore booth locations. A map and list of exhibitors are also available in the September 10, 2022, issue of Hoard's Dairyman, which you can pick up at our booths in the Coliseum and Exhibition Hall. Our booths are also where you can check out the variety of books and manuals available from our Hoard's Dairyman Bookstore.
Our newest offering is making its first appearance at Expo, and that is an 80-page book dedicated to everything farms need to make good corn silage: hybrid selection, harvesting, storing, and feeding. Come flip through a copy of Corn Silage: From Seed to Feed to see what it's all about.
We also have books on topics including reproduction, calf care, herd health, farm business, and much more. Multiple books are available in Spanish. And beyond information to help your business, you may find a good holiday or birthday gift for the dairy enthusiast in your life. Consider a book of quotes from W.D. Hoard himself that illustrate the history of the industry or a comprehensive history of World Dairy Expo. You can come and pick up your 2023 Hoard's Dairyman calendar, too!
We hope to see you at the trade show this week as you explore all of the outstanding science, technology, and information the industry has to offer.
---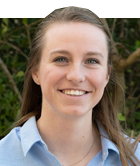 Katelyn Allen joined the Hoard's Dairyman team as the Publications Editor in August 2019 and is now an associate editor. Katelyn is a 2019 graduate of Virginia Tech, where she majored in dairy science and minored in communication. Katelyn grew up on her family's registered Holstein dairy, Glen-Toctin Farm, in Jefferson, Md.