As the doors closed on the first day of the World Dairy Expo Trade Show, many company representatives made their way to the Exhibition Hall meeting rooms for food and fellowship. For more than 20 years, the Hoard's Dairyman Exhibitor Party has become a tradition among commercial exhibitors.
The party, hosted by Hoard's Dairyman and World Dairy Expo, is a time for exhibitors to reconnect with old friends and meet new people. Food and drink are available in a casual setting that allows the conversation to flow.
This year's menu featured one item with special ties to the Guernseys on the Hoard's Dairyman Farm. Macaroni and cheese made with Governor's Select: Limited Edition Sharp Cheddar Cheese, one variety of cheese from our Hoard's Dairyman Farm Creamery, was a highlight of the food spread.
This year's trade show follows a new four-day schedule, with booths available for viewing from Tuesday to Friday. Trade show booths are located in the Exhibition Hall, the Coliseum, the Trade Center, and the Outdoor Trade Mall. With eye-catching displays and technology incorporation, these companies have prepared for months in anticipation of this opportunity to visit with dairy farmers from around the world.
It is our pleasure to host the commercial exhibitors each year following Day 1 of the trade show. We hope all exhibitors and attendees have an enjoyable and productive visit to World Dairy Expo.
---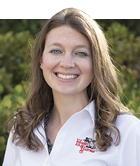 Abby Bauer
The author is the senior associate editor and covers animal health, dairy housing and equipment, and nutrient management. She grew up on a dairy farm near Plymouth, Wis., and previously served as a University of Wisconsin agricultural extension agent. She received a master's degree from North Carolina State University and a bachelor's from the University of Wisconsin-Madison.