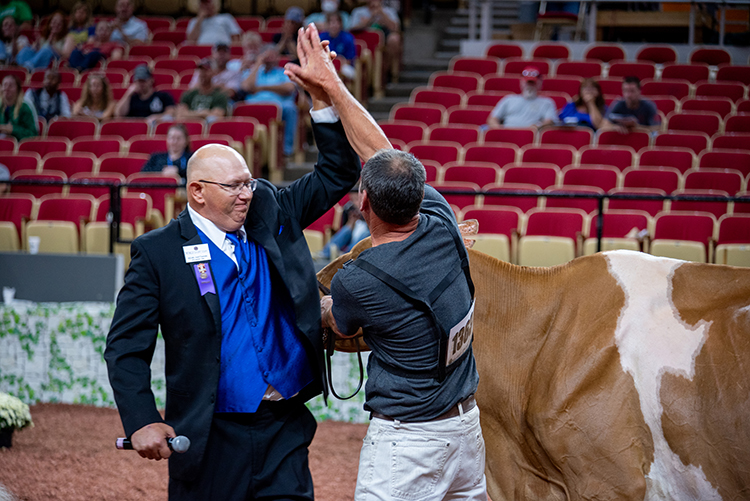 Her name is "Uno," and at the International Guernsey Show at World Dairy Expo on Monday, she earned the top position. Springhill Kojack Uno-ETV was named Grand Champion of the show by judge Kevin Hartmann of Mulberry Grove, Ill., and his associate, Ted deMent of Kenney, Ill. The cow had been in the winner's circle on this grand stage before, most recently earning Reserve Champion honors at World Dairy Expo last year.
"She's on the money today," said Hartmann of his winning six-year-old and older cow. "When you talk about the udder, it's incredible." That strength of mammary system also earned Uno the Best Udder award. She is owned by the group of Melander, Robthorn, and Smith-Crest of Watertown, Wis.
Reserve Grand Champion was a cow with a long history of success on the colored shavings as well. Valley Gem Atlas Malt-ET, owned by Valley Gem Farm of Cumberland, Wis., earned Grand Champion honors at three previous World Dairy Expos. This year, she stood near the top again, earning Reserve Grand Champion and Reserve Senior Champion honors, and judge Hartmann shared accolades for both these aged cows.
"These are cows that stood the test of time," he said. "They are the epitome of dairy strength."
Honorable Mention went to a young cow, the Summer Junior Two-Year-Old. She was the Intermediate Champion, Cape May Latimer Honey, exhibited by Savannah Thomas of West Liberty, Ohio. Reserve Intermediate Champion was Hickman Valleys S Blakely, owned by Brittany Taylor, Grace Schuler, and Laylaa Schuler of New Glarus, Wis.
Blakely, the first place Junior Two-Year-Old, was also Grand Champion of the Junior Show. Reserve Grand Champion honors in the Junior Show went to the Aged Cow, Hi Guern View Asias Africa, owned by Alaina Dinderman of Orangeville, Ill.
In the Heifer Show, CB VG Jack Dont Forget Me-ETV, the winning winter calf, took home the honors of Junior Champion. She was exhibited by Haley Beukema, Lauryn Weisensel, and Brynn Grewe of New Richmond, Wis. Reserve Junior Champion of the International Guernsey Show was Empire Drone Patina, owned by Tim and Megan Schrupp of Paynesville, Minn.
CB VG Jack Don't Forget Me-ETV was also named Junior Grand Champion of the Junior Show. Reserve Junior Champion went to Rocky Hill Reputation Juliet, owned by Marah Ripley of Moravia, N.Y.
The Premier Breeder and Premier Exhibitor of the show was Springhill of Big Prairie, Ohio. They also received Premier Breeder of the Heifer Show. Premier Exhibitor of the Heifer Show was Empire Guernseys, owned by Tim and Megan Schrupp of Paynesville, Minn. The Premier Sire was Hi Guern View Levi Drone. In all, 222 animals walked the colored shavings in the International Guernsey Show.
---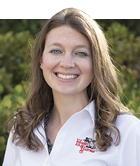 Abby Bauer
The author is the managing editor and covers animal health, dairy housing and equipment, and nutrient management. She grew up on a dairy farm near Plymouth, Wis., and previously served as a University of Wisconsin agricultural extension agent. She received a master's degree from North Carolina State University and a bachelor's from the University of Wisconsin-Madison.