So many aspects of World Dairy Expo, from established events to annual awards, stem from tradition. For the Hoard's Dairyman team, one of our favorite Expo traditions is hosting the Hoard's Dairyman Exhibitor Party.
When the doors close on the first day of the trade show, company representatives head over to the meeting rooms in the Exhibition Hall. Here, they can grab a bite to eat and visit with other exhibitors. For more than 20 years, Hoard's Dairyman has hosted this party for commercial exhibitors at World Dairy Expo.
This year's menu featured creamy macaroni and cheese. The special recipe included a variety of Hoard's Dairyman Farm Creamery cheese made from milk produced by Guernseys at the Hoard's Dairyman Farm.
The World Dairy Expo Trade Show is open Tuesday to Friday, and booths are located in the Exhibition Hall, the Coliseum, the Trade Center, and the Outdoor Trade Mall. While the actual show lasts for four days, companies spend months beforehand preparing for this opportunity to visit with dairy producers.
The Hoard's Dairyman Exhibitor Party is a time for companies to celebrate a successful booth set-up and a productive first day of customer conversations. It's also a chance to relax and talk with old friends and new. We are thankful to be part of this Expo tradition, and we hope all exhibitors have a fruitful week at the show.
---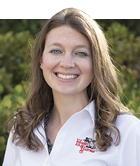 Abby Bauer
The author is the managing editor and covers animal health, dairy housing and equipment, and nutrient management. She grew up on a dairy farm near Plymouth, Wis., and previously served as a University of Wisconsin agricultural extension agent. She received a master's degree from North Carolina State University and a bachelor's from the University of Wisconsin-Madison.