Win a Year of Yoga and Yogurt
New Seasons Market
and
Dairy Farmers of Oregon
are teaming up to give one lucky winner a year full of yoga classes and delicious yogurt through a drawing on the
Dairy Farmers of Oregon Facebook page
. For those with healthy New Year's resolutions, yoga and yogurt are two easy components to keep up a balanced lifestyle.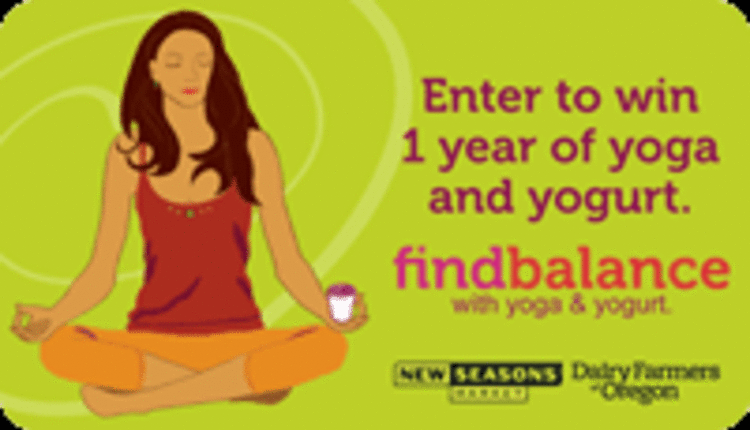 Yoga is an easy way to relax and yogurt's healthful versatility makes it flexible in the kitchen. It's also low in calories and high on taste. Yogurt is a great source of protein,
probiotics
and is rich with calcium. One cup is perfect for anytime you need some strength and balance in your life.
"Recognizing that our good health is in our hands," said Nancy Hamren of Springfield Creamery, makers of Nancy's Yogurt "is the first step toward a more balanced, healthier life. Physical activity and probiotic yogurt are great steps in that direction."
The drawing is free and open to all residents in Oregon and SW Washington. Enter online at the
Dairy Farmers of Oregon Facebook page
through Feb. 17, 2013. The grand prize winner will be randomly selected and will receive one year of free yoga at a local yoga studio and 12 months of
Nancy's Yogurt
. That's two quarts of creamy goodness every month. The grand prize winner will also receive a Nancy's artisan yogurt bowl and 24-carat gold plated Nancy's spoon. Five second-prize winners will receive $25 gift cards to
New Seasons Market
. A complete list of rules can be reviewed at time of entry.
About Oregon Dairy Products Commission
Dairy Farmers of Oregon is a program of the Oregon Dairy Products Commission. The Commission works on behalf of Oregon's dairy farm families who, with the help of 123,000 dairy cows and Oregon dairy processors, provide award-winning cheeses, milk, butter, and an extensive line of premium ice cream, sour cream and yogurt. Milk is the official state beverage of Oregon, and Oregon is recognized nationwide as a leader for milk quality. The Oregon dairy industry is a community-conscious, caring business that contributes to nearly $1 billion to Oregon's economic well-being each year. Oregon dairymen and women care about their cows, their communities, and the land, air and water of Oregon. www.dairyfarmersor.com. The Commission also provides nutrition education through its program of the Oregon Dairy Council. www.dairycouncil.org
01.25.2013