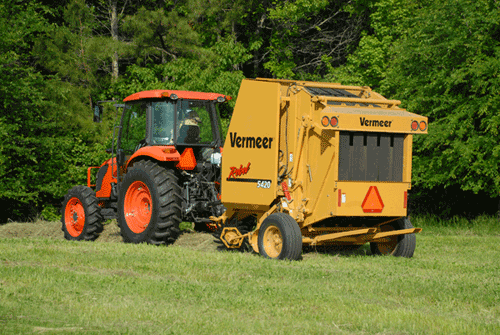 Twelve years ago, Vermeer introduced the ?rst ever hitch 'n go baler designed to meet the needs and pocketbooks of producers with low horsepower tractors looking to roll their own high-quality round bales.
Today marks the launch of the new Rebel Baler generation, this time with two models – the Rebel 5420 and 5520 Balers – and several significant new features incorporated from larger Vermeer models, but still maintaining the user-friendly functionality and meeting the lower horsepower requirements of the popular original.
"Because the Rebel Baler has been such a strong leader in its class, we spent a lot of time working on new features that enhanced baler performance, while keeping the functionality simple and the price very competitive," says Phil Chrisman, Baler Product Manager. "We also wanted to answer a customer need that was not ?lled with the last Rebel Baler introduction. By offering both 5x4 and 5x5 models, we can now offer a 5x5 baler for owners who do not need the higher capacity balers, but want to produce larger bales at an economical price point."
With the integration of Vermeer Super M baler technology – the newly designed netwrap system and the feature-?lled Bale Expert™ monitor – Rebel Baler owners will have the newest designs to help achieve the desired baling performance. Newly integrated belts with Alligator rivet laces are used for maximum strength. A new balanced density system, helps increase belt life by keeping them taut and preventing tangles, and as a result, it produces better-looking bales.
Optional Haysaver wheels are easy to adjust with just a few quick turns of a wrench. The optional netwrap system is user-friendly for loading and feeding, and features a net spreading system that can wrap bales in less than 10 seconds – right to the edge. The optional Bale Expert monitor helps customers monitor bale size and shape and prevents bale chamber over?ll with an alarm system – all without the operator leaving the tractor cab. Another new feature is the optional moisture sensing kit, perfect for lifestyle producers providing the knowledge that they are putting up high quality hay.
"This new Rebel Baler offers lifestyle producers the quality and reliability of Vermeer baler technology in a package speci?cally designed for their needs. That's what the Rebel brand is all about and what producers with lower horsepower tractors deserve," says Chrisman.
With a 40 hp (30 kW) tractor the Rebel 5420 Baler produces 5' diameter x 4' wide (1.5 m x 1.2 m) bales that weigh up to 1,000 lbs (454 kg). The 5520 produces 5' diameter x 5' wide (1.5 m x 1.5 m) bales that weigh up to 1,400 lbs (635 kg).
About Vermeer Corporation
Vermeer manufactures a complete line of hay tools including round balers, mowers, mower/conditioners, rakes, tedders, bale processors and silage wrappers plus biomass harvesting equipment used for renewable energy and reclamation; and a wide assortment of industrial products for tree, construction, environmental and underground utility service work. For more information on Vermeer equipment, visit vermeer.com.
09.17.2011