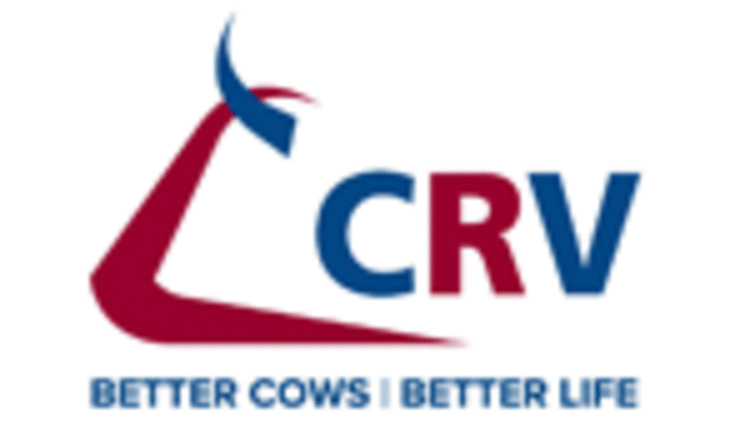 The April 2012 sire evaluations proved most bountiful for CRV. The addition of 11 InSire genomically selected bulls adds a whole crew of genetics to be harvested for US and global dairy producers. Sires specialized with increasing milk solids, improving health and fertility, and functional type are the main fields of expertise.
Leading out the new additions for CRV is MASTER (M-O-M x Shottle). This bull hails from the prestigious Windsor Manor Farms in Maryland with well-known brood cow, Windsor Manor Rud Zip EX-95 4E as his granddam. MASTER keeps his family tradition strong by offering high type, production and components. He is also our highest GTPI bull this proof run at +2353. This bull is an all-arounder that will create great daughters.
BARROW is a well-rounded, outcross bull. This Bowser x Jeeves sire comes from a very unique cow family out of Richmond Farms in New York. His dam scored VG as a two year old and produced over 27,000 lbs M that same year, maintaining the integrity of the family line. With a solid UDC and extremely good udder linear, BARROW will be able to create tremendous udders. He also scores well in health traits with a +2.73 SCS, +6.1 PL and is calving ease.
Another high UDC bull, TABOR is sure to create outstanding udders. A Trigger x Jet Stream, he also posts an outstanding PTAT at +2.65. TABOR's maternal line traces back to the brood cow, Horststyle Patron Mandy EX-93. Beyond his excellent conformation, TABOR still proves to be functional with a +1.3 DPR, +6.2 PL and a Temperament breeding value of 107, meaning daughters will be well-mannered.
Our first Freddie son, JEPSEN (Freddie x Ramos) has a lot to offer producers being our Cheese Merit specialist at $717. Deep in JEPSEN's cow family is the highly recognized Morningview Converse Judy EX-93 brood cow. A product of Dan Weigel's breeding, the same herd as Katana, JEPSEN touts a superior DPR at +1.4 and is calving ease. Expect good production from these daughters with +1448 Milk and positive Fat and Protein Percentages.
SIREN (Observer x Auden) excels in milk production at a score +1614 PTAM and over 100 lbs combined solids. He ranks among the top in the InSire line up for this trait. Even with this high production potential, he sires good SCS at 2.82. SIREN hails from My Ladys Manor Farm in Maryland.
For those looking for a balanced conformation traits, and good FLC and UDC, HERBST (Trigger x Goldwyn) is your bull. He is a new son from the proven TPI superstar, Trigger. HERBST passes on high component percentages from his dam, Gil-Gar Goldwyn Saturday, who made 1226 lbs F as a 2 year old. Out of all the InSires, he is top for Udder Health at 107, making him a total package for those looking for balanced animals.
TOM (Man-O-Man x Mac), is the ideal combination between health and components. With extreme component percentages at .15%F and .10%P, he is the perfect bull for producers who sell to a cheese market. TOM touts an impressive +1.7 DPR and is calving ease, for use on heifers.
NICODEMUS is a solid conformation Super son from a very sound Goldwyn dam. As a two year old she scored VG-87 and produced 1110 lbs F on 2X. He ranks over +1.50 for PTAT, UDC and FLC, creating functional daughters. NICODEMUS also excels at SCS, allowing him to improve producers' somatic cell counts. Behind this exciting young bull, is the brood cow, Sher-Mar Highmark Hiawatha EX-94.
MELBOURNE (Sebastian x Shottle) comes from two generations of dams with lactations over 30,000 lbs M on two times a day. This should be no surprise as he is from the same cow family that produced Veazland Marion – a top PTA Milk bull in his day. MELBOURNE couples good milk production with high solids, for an overall balanced production proof. In addition, this bull posts a solid FLC of +2.97, making him one our best for feet and legs.
Component and health bull, GRAHAM (Trigger x Goldwyn), greatly improves both fat and protein percentages in his daughters. Across all the health and management traits, GRAHAM does incredibly well, excelling the most in SCS at +2.67. His dam from Welcome Stock Farm in New York, is scored VG-88 with an EX Mammary.
Rounding out the new InSire bulls, is a bull named SU (Jeeves x Goldwyn). He is a late Jeeves son with two generations of dams producing over 30,000 lbs M as 2 year olds. His dam produced 1570 lbs P right out of the gates. SU is an all around, balanced bull and excels most in health traits, specifically DPR and calving ease. When traced back, SU hails from the same cow family as Regancrest Barbie, but was the branch developed at De-Su Farms in Iowa.
To learn more about CRV, it's people, or products in your area, please visit www.crv4all.us or give us a call at 1-800-400-crv4all.
CRV is a global cattle improvement organization that exists to improve quality of life. CRV's USA headquarters in Madison, WI was established in September 2009. Because we genuinely care, we pay attention to your farm, industry, and the general society. Our business goes beyond genetics providing service and information on all continents with dairy and beef farmers.
4.06.2012