"Be Our Guest" Concert Raises Nearly $13,000 to Benefit Feeding South Dakota
Donations will be used to purchase dairy foods for food banks and hunger relief centers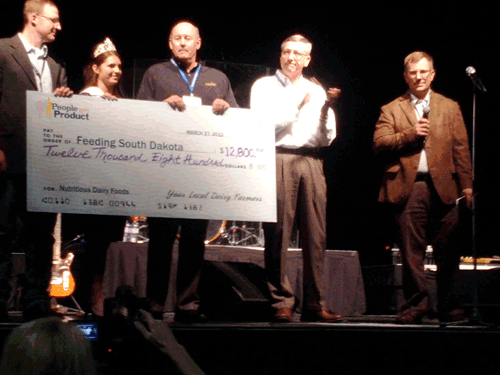 Allen Merrill, right, vice chairman of Midwest Dairy's South Dakota Division, presents a check to Feeding South Dakota. From left are Nathan Sanderson representing the Governor's office, Natalie Thyen, outgoing South Dakota Dairy Princess, Jim Dawson and Matt Gassen of Feeding South Dakota.
Thanks to the support of nearly 1,300 South Dakotans, dairy farm families presented Feeding South Dakota with a check for nearly $13,000 at a benefit concert on March 27. Dairy farmers invited the public to "Be Our Guest" at a Sawyer Brown concert at the annual Central Plains Dairy Expo in return for a $10 donation to Feeding South Dakota. Donations will be used to purchase dairy foods to stock food banks across the state.
"We appreciate all of the donations and support we received from South Dakotans," said Jim Dawson, food sourcing specialist with Feeding South Dakota. "We're especially excited about having additional funds to purchase dairy foods at times of high demand. Because of the perishable nature of these products, we don't often have them in stock at our distribution centers."
"Feeding people is at the heart of what dairy farmers do," said Allen Merrill, a dairy farmer from Parker, S.D. "Each day that means producing a great-tasting and nutritious product on our farms. But this event a great partnership for us to take that mission of feeding people a step further."
Donations were accepted at First Bank and Trust locations in Sioux Falls and Canton, Lewis Drug Store locations in Sioux Falls, Brandon, Brookings, Huron and Madison, and Hy-Vee stores in Sioux Falls.
Feeding South Dakota (www.feedingsouthdakota.org) is a hunger relief organization that serves approximately 500 hunger relief and emergency food distribution sites throughout the state. These agencies received more than 12 million pounds of food and grocery items from Feeding South Dakota in 2011. Feeding South Dakota now operates distribution centers in Sioux Falls, Pierre and Rapid City, and food pantries in Sioux Falls and Rapid City.
Milk provides a unique package of nine essential nutrients, and dairy foods are a substantial contributor of many nutrients that are important for good health. Dairy's importance in building strong bones and maintaining a healthy weight has been reaffirmed in the Surgeon General's Report on Bone Health, the 2010 Dietary Guidelines for Americans, and MyPlate. All recommend eating three servings of low-fat or fat-free milk, cheese or yogurt daily for optimum health.
4.23.2012