The Ayrshire Breeders' Association presented its annual Master Breeder Award to Daltondale Farm of Hartland, WI, at the National Ayrshire Convention in Appleton, WI, on June 29, 2012.
Ayrshires were brought to Daltondale Farm in 1910. Brothers John and the late Tom Dalton formed a partnership and took over the family farm in 1971. This third-generation of Ayrshire breeders has registered, classified, participated in DHI testing, and shown at local, state and national shows. They built a valuable reputation, and today the name Daltondale is synonymous with success.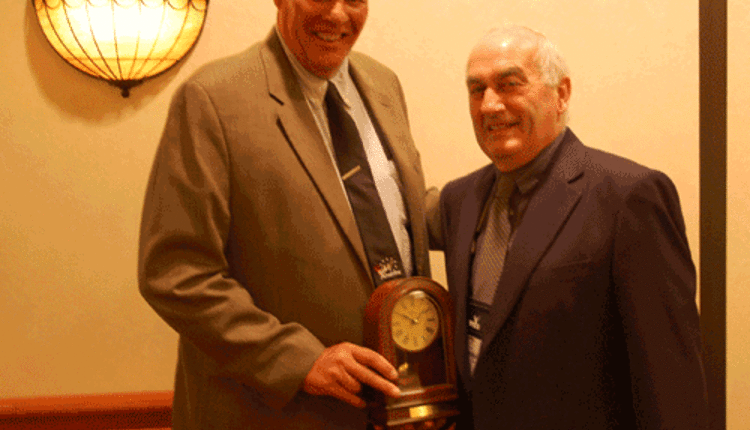 Ayrshire Breeders Association President Steve McDonald (left)
presents the 2012 Master Breeder Award to John Dalton of Hartland, WI
Animals with the Daltondale prefix have topped the Ayrshire Elite Cow List, have served in A.I., won national production awards, topped national shows, and been named All-Americans. No further documentation is needed to prove that this herd is worthy of being selected as the 10th recipient of the Ayrshire Breeders' Association Master Breeder Award.
Having keen eyes for cattle helped this partnership in the purchase of animals that added excellent genetics to the herd. Valu-Ayr Madge's Martha, EX-90, was purchased as a heifer in a National Ayrshire Sale from Art, David & Kevin Gaddis and became the matriarch; as at one time, more than half of the herd was related to her. Born in 1977, she has lifetime credits of 142,450M 4.6% 6,533F 2.9% and 4,069P.
Another cow family that was developed by our Master Breeders traces back to a purchase, Mecklenburg Ray's Avis 2nd, who was the #1 cow on the Elite Cow List in the 1990s. Several of her progeny also appeared on the Elite List. Her son, Daltondale's Jason, was sold to Sire Power. Her great-grandson, Daltondale Big Nick-ET, was sold through Select Sires. Another A.I. sire that traces back to this cow family is Palmyra Romeo Acclaim.
When you start analyzing the cow families in this herd, you see generation stacked upon generation of hardworking, functional, productive animals that exhibit both type and longevity. One of the favorites, Daltondale Tux Mischief, EX-91, is an example of breeding for both type and production. Mischief has lifetime credits of over 108,500M 4,032F and 3,499P. She placed 2nd at the Southern National as a 5-Year-Old. She earned the 2011 Wisconsin Cow of Year Award. Her granddaughter, Daltondale Lucifer Misty, and great-granddaughter, Daltondale Ambush Meadow, were the top two selling animals in the Daltondale Traditions of Excellence Sale held last October.
Animals from the Daltondale herd have performed well for others. Since the October sale, Misty has been classified EX-93, flushed by Family-Af-Ayr Farm and is projected to make 22,644M 4.2% 976F 3.2% 706P as a senior 4-year-old. This cow family also earned many national show and All-American awards.
Daltondale cattle have been shown at every World Dairy Expo. They exhibited national champions in both Waterloo, Iowa, and Columbus, Ohio, when there was only one national show. Numerous championship rosettes have been won at the Central and Southern national shows as well as numerous state fairs and state shows.
Our Master Breeders haven't done it alone. They've had the support of family, employees and friends who have assisted in the development, care and management of the herd. John and his wife, Bobbie, have two sons, Tim and Randall, and their families. In recent years, they have extended their farm/family unit to include special friends and partners like Nick Tetzlaff and Donna Mertz, who have been instrumental in continuing the Daltondale breeding program.
John and Tom presented a dynamic partnership until Tom passed away in 2009. Tom's legend lives on in the Daltondale prefix, and you can be assured that his brother, partner and Master Breeder John will continue mating quality Ayrshires.
07.19.2012