The Ayrshire Breeders' Association honored two young Ayrshire breeders with the Outstanding Young Ayrshire Leader Award at the National Ayrshire Convention in Appleton, WI, on June 29, 2012. The award recognizes young breeders who are making significant contributions as leaders by giving of their time, energy and expertise to the Ayrshire breed and dairy industry, as well as their communities.
Katie (Zumbach) Stoll of Cascade, IA,
grew up with Ayrshires and learned a strong work ethic early in life. She has deep Ayrshire roots, as she is the daughter of Gary and Carla Zumbach and granddaughter of Louis and Velma Zumbach.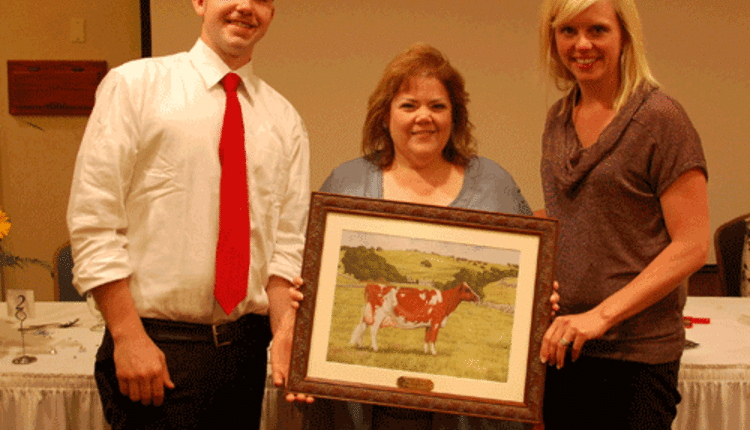 Ayrshire Breeders' Association Executive Secretary Becky Payne
(middle) presents the 2012 Outstanding Young Ayrshire Leader Award to
Gregory Evans of Georgetown, NY and Katie Stoll of Cascade, IA.
Stoll attended Iowa State University where she served as President of the Dairy Science Club, was a member of the intercollegiate dairy judging team and a member of the team that won a First Platinum award in the North American Intercollegiate Dairy Challenge contest. Following graduation from Iowa State, she was employed as a dairy consultant for Triangle Agri Service where she worked with dairymen to make their herds more profitable. She has also taught vocational agriculture at Maquoketa Valley and introduced many students to the dairy industry.
She has served on the ABA Youth Committee for 10 years and as president of the Iowa Ayrshire Association for two years. She has also managed several Iowa Fall Ayrshire Sales. As an active dairy promoter, she has served as president of the Jones County Dairy Promotion Board, the Ayrshire representative to the Iowa Purebred Dairy Cattle Club, a 4-H advisor, and on Iowa Holstein Association committees. She received the Iowa Ayrshire Association Distinguished Member Award in 2010. Katie also uses her talents to judge county dairy shows.
Since her marriage to Matt Stoll, Katie has focused her attention on the family-owned Stoll Farm herd where she is responsible for marketing, mating and record keeping. The 250-cow milking herd includes Ayrshires that trace back to her family's Zumbach herd and high genetic animals that have been purchased. The farm hosts judging teams and college classes. The Stoll's have two daughters, Lilly, age 4, and Reagan, age 1.
Gregory Evans of Georgetown, NY,
is a member of the eighth generation to live and work on the home farm of Sunny Acres. Greg helps operate the 235-acre farm with his parents, Doug and Kathe, and brother Andrew.
Ayrshires have been an integral part of Greg's life. Over the years he has bred 10 Excellent and several Very Good cows. He has exhibited several open and junior All-Americans and Reserve All-Americans. He presently owns 26 head of cattle. In 2011, one of his homebred cows, Sunny Acres Nolan's Satin, was the 3rd high cow in the Ayrshire breed for protein. He is extremely proud of the fact that his cows not only show well but that they have also produced several records between 20-30,000 pounds of milk. His pride and joy is Sunny Acres Harmony's Kennedy, EX-94, who was the 2012 Mid-Atlantic National Show Senior & Grand Champion and best bred and owned Ayrshire.
Although everyone has input, Greg's specialty at Sunny-Acres is in breeding plans and bull selection for the herd. Sunny Acres often hosts tours and visiting judging teams. Greg is the detail man that manages to round up his neighbors and friends and puts the final touches on the farm's public presentation. Additionally he assists with his father's vet practice on weekly herd checks on large dairy farms.
Greg is developing a career-marketing cattle. He helped select cattle for the 2011 National Sale in Maryland and thoroughly enjoyed the process of bringing people and Ayrshire cattle together. Greg recently added reading pedigrees to his work with the Ayrshire breed, working at the NY Spring Carousel Heifer Sale in Syracuse and the Northeast Ayrshire Sale in Rutland, Vermont. Several purchases of exceptional cattle have been made in partnerships with an eye towards developing bull mothers that exhibit both milk and type that will appeal to breeders nationally and internationally.
Evans participates on ABA committees. He was a member of the Chenango County 4-H program for 10 years where he was a member of the dairy judging team. Greg was also a member of the New York State Dairy judging teams competing at Louisville, KY, and Madison, WI. He has taken these opportunities and uses his experience to help coach the Chenango County 4-H Dairy Program.
07.19.2012