Selection includes five Genuity® Roundup Ready® varieties to address a range of production challenges.
Six new alfalfa varieties have been added to the CROPLAN® seed lineup for ordering during fall 2012 and planting spring 2013, giving farmers more choices to match each field's conditions. The new varieties greatly expand the number of Genuity® Roundup Ready® alfalfa offerings available from CROPLAN® by WinField. "The new CROPLAN® alfalfa products offer more varieties with the potential for high yield and improved quality, leveraging the popular Genuity® Roundup Ready® technology system," says Gary Nowaczyk, national alfalfa and forage manager, WinField. "Combined with our industry-leading genetics and expert agronomic advice, these new varieties help meet the many production challenges found across the country and can suit many farmers' management styles."
Along with five new Genuity® Roundup Ready® alfalfa varieties, a new conventional alfalfa variety has been added to the CROPLAN® seed lineup, offering exceptional yield potential and high digestibility. "This is another example of how CROPLAN® seed helps provide the right seed for a variety of unique circumstances," Nowaczyk adds. The six new CROPLAN® alfalfa varieties include (RR® indicates Genuity® Roundup Ready®): ·
RR® AphaTron – Offers an excellent disease resistance package for challenges faced in the upper Midwest and East, including aphanomyces root rot disease race 1 and 2.·
RR® NemaStar – Designed for conditions in the Pacific Northwest, delivering peak performance under nematode pressure, including high resistance to stem and root-knot nematode.·
RR® Presteez – Ideally suited to the upper Midwest and West for three- to four-cut, dairy quality baled hay, combining optimum yield and digestibility.·
RR® Stratica – One of the highest yielding FD 4 varieties in the marketplace. Provides an excellent choice for haylage or aggressive hay production in the upper Midwest and outstanding disease resistance for the Midwest and East.·
RR® Tonnica – Takes full advantage of the growing season in the Central Plains, High Plains and southern Midwest, allowing farmers to harvest five or six cuttings.·
LegenDairy XHD – Enhances a proven conventional variety with high yield potential and very high forage quality, best suited for the Central, East, North and West regions. For more information about CROPLAN® alfalfa varieties and other CROPLAN® seed products, see your local CROPLAN® seed retailer, WinField™ agronomist or visit www.croplan.com.
About WinFieldWinField, a Land O'Lakes company, offers top-performing seed and crop protection products. With unmatched agricultural expertise and performance as core company values, WinField brands match leading seed and crop protection products to help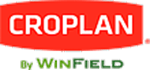 growers, dealers and other industry partners achieve high levels of success. WinField™ brands include CROPLAN® seed, crop protection products, plant nutrients and other proprietary products. Backed with unrivaled technical services and knowledge, WinField™ products deliver outstanding solutions and value for the agricultural industry.
09.17.2012