U.S. Dairy Producers Return to Alltech's Global Dairy 500
In just two weeks, many of today's leaders in the global dairy industry will descend upon Lexington, Ky., to explore the latest advances in nutritional technologies and share ideas for keeping their operations efficient, profitable and sustainable. Alltech's fifth annual Global Dairy 500 will take place December 4 to 6 and is expected to draw more than 500 dairy producers, many of them for the second or third time.
Robert Brouwer, owner of a 2,800 cow dairy near Portales, N.M., has attended Global 500 every year since its inception five years ago.
"This is a must attend event for me. Alltech continues to outdo themselves with timely and relevant topics, presented by great speakers," Brouwer said. "It is also great to meet and interact with dairymen from across the world. The event gives me new ideas and provides an opportunity to see things from a global perspective."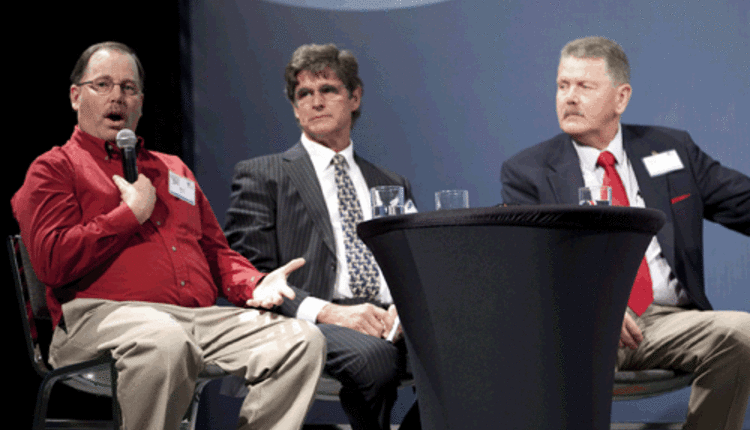 Producers from Ireland, the United States, New Zealand and Argentina discuss topics such as country of origin labeling, environmental regulations and feed conversion during the 2011 Global Dairy 500 discussion panel.
Nick Vande Weerd, co-owner of Pleasant Dutch Dairy, a 1,400 head operation near Willow Lake, SD, agreed. "I thought the conference was very energetic. You are not going to get there and get bored because they have high quality, informative speakers," Vande Weerd said. "It's engaging and a great place to network with people from around the world. I am going back this year."
This year's agenda will feature presentations on branding milk, social media, employee training, decreasing carbon footprints and mycotoxins as well as many presentations that will address the core theme for the event, the EPS principle- Efficiency, Profitability and Sustainability:
• "Back to the Future": What You Will Hear
Why do we aim low? If the world record is 72,000 pounds of milk, why do we settle for 20,000+ pounds? Is the grading system out of date? What are the barriers and obstacles to more profitable dairy or beef farming?
• Feeding the Machine: What We Must Understand to Maximize Productivity
How do we keep pace with genetics? Why do we cull cows so early? Why is there such high infertility coming into the dairy herd? Do we understand what the new technology is and how to apply it?
• The Gene Chip: A Breakthrough in Natural Nutrition
What the gene chip tells us about personalized medicine for humans, and its implications for feeding our animals -Tomorrow's technology today.
• Ingredients for Success on a Dairy Farm
Ten lessons learned from twenty years visiting dairy farms that will bring you to a new level of production.
• The Mycotoxin Killer: Today's Most Prevalent Problem
As the hidden killer on farms today, what do we do when two-thirds of all grains are contaminated with mycotoxins? What do we do when distillers dried grain (DDG) has three times the mycotoxin levels and is now a major ingredient?
• Protected Fats. . . Not Just Any Fat but a Fat That Improves Fertility
Learn why protected fats are key to dairy and the role algae plays in embryonic development. Can protected fats get an extra lactation out of our animals?
• Your Carbon Footprint: The New Reality
What is a carbon footprint, and why is it important to you? New Zealand now imposes a 40.00 USD fine for every animal on the farm; will this step come to the rest of the global dairy industry and you?
• Looking for Signals: Let the Cows Talk
All animals send signals every day. Learn what to look for, what they tell you, and how to use them profitably.
• Shakin' Udder: From Home-Farm Delivery to Specialized Milkshake
A simple branding exercise for you- Learn how you can do it yourself. Surround yourself with entrepreneurs. Spot the chance and grab it.
• The Milkman Farmer: Become the Delivery Man
Knocking on doors: How my family weathered the storm and supported 40 people for 40 years with 200 cows profitably.
"As the global demand for dairy products continues to grow and our climate becomes less and less stable, the pressure to innovate is on the shoulders of today's farmers. However, the question of how to remain profitable is a question that does not have a clear answer anymore," said Dr. Pearse Lyons, president and founder of Alltech. "Branding is much more important now as consumers are developing strong loyalty to brands and are more concerned about the origin of their food. Our answers must address efficiency, profitability and sustainability."
The Global 500 registration fee is $325 and includes access to all Global 500 sessions, organized meetings, luncheons and dinners during the event. For more information on Global 500 and to register, please visit www.alltech.com/global500 and use the invitation code G124.
11.20.2012