DeLaval announced today its plans for participating at World Ag Expo – the world's largest annual agricultural exposition. The company will present both new and existing solutions to help dairy producers better manage the efficiency, profitability and sustainability of their operations.
"Our entire industry is faced with the unprecedented challenge of producing more food with less impact on the environment. We believe that sophisticated farm management will play a major role. This includes more on-farm automation, a greater emphasis on cow comfort and sustainability, and the adoption of intelligent systems to aid decision-making," said Christian Poggensee, DeLaval Regional President of North America.
At the show, DeLaval will premier its new solutions designed to improve the businesses of dairy producers. The company will display the DeLaval teat spray robot TSR™ – an automatic pre- and post-spray solution for rotary parlors offering consistent application, optimal use of teat dip and less labor.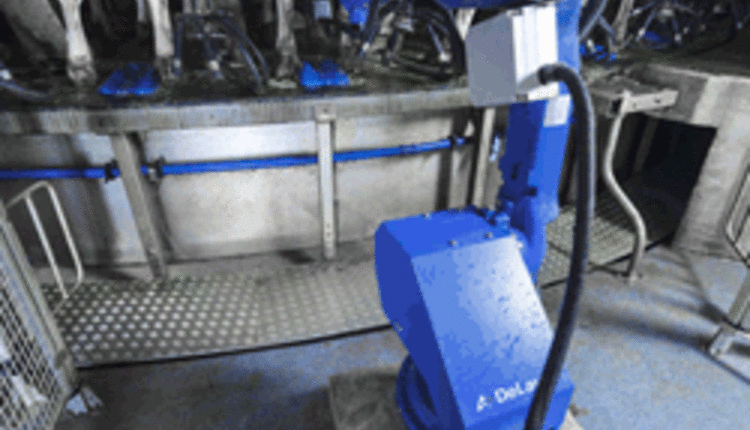 At this year's World Ag Expo, DeLaval plans to premier new solutions to help dairy producers manage the efficiency, profitability and sustainability of their operations, like the DeLaval teat spray robot TSR.
The need for making timely, accurate decisions is more critical than ever to a farmer's bottom line. DeLaval will demonstrate the unique integration capabilities of its new software platform for dairies milking 50 to 150,000 cows. The intelligent system collects information from all aspects of the farm, analyzes the data and presents the information in an easy-to-use way.
Ensuring milk quality and animal health has always been a top priority for DeLaval. The company will introduce a new portfolio of teat dip dispensing systems designed specifically for its already popular range of iodine and non-iodine chemical concentrates. The new systems ensure the product is properly diluted – eliminating the labor and risk of doing the job by hand – while conveniently dispensing fresh dip on demand.
DeLaval will display its solutions and expertise with more than 7,000 sq ft of exhibit space at World Ag Expo. Its booth in the Farm Dairy Credit Center (#6725-30) will focus on consumable solutions like liners, tubes, teat dips and silage inoculants. In two adjacent outdoor buildings (DS93-96) the company will showcase the latest in milking and herd management technology, like its VMS™ (Voluntary Milking System), parlor and rotary automation, and automated sort gate, calf feeder and heat detection system. For the first time ever, DeLaval will also have a booth at the Hilvers Career and Education Center (#8004) to discuss professional opportunities within the organization.
World Ag Expo is a three day event showcasing the latest in farm equipment, communications and technology from 1,400 exhibitors on 2.5 million square feet of exhibit space. The event occurs February 12-14, 2013 in Tulare, Ca.
DeLaval will host a media breakfast at its outdoor booth location (DS93-96) at 8 a.m. Pacific Standard Time on Tuesday, February 12, 2013. The media briefing will include commentary from Christian Poggensee and other key DeLaval personnel.
About DeLaval
DeLaval is a leading supplier of solutions that improve the performance of farms for professional food producers. We support our customers in reducing their environmental footprint while improving food production, profitability and the well-being of the people and animals involved. We offer products, systems and services for all steps of milk production. Our solutions are used by millions of dairy farmers around the globe every day.
DeLaval was founded more than 125 years ago in Sweden, when the visionary Gustaf de Laval patented the cream separator. Today, DeLaval has 4,500 employees and operates in more than 100 markets. DeLaval, alongside Tetra Pak and Sidel, is part of the Tetra Laval Group.
01.10.2013