Since the 2012 Farm Bill was delayed for consideration in 2013, this delay provides an opportunity for dairy farmers to help form new dairy policy for this five year bill. The "Dairy Security Act" was proposed for inclusion in the 2012 Farm Bill and many dairy lobbyists and co-op executives have heavily criticized congress for not passing the bill. After all, these lobbyists and large co-ops have collectively contributed $4 to $6 million dollars a year for the last five years to get the "Dairy Security Act" passed, I can understand their frustration. More details on who got the money in D.C., another time.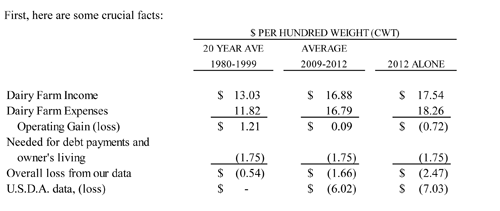 Our clients produce about 12% of the milk in 30 states. Our data is compiled from operating results from our clients which are mostly from larger dairy farms in the Western U.S.
The operating results of two decades of the 80's and 90's have revealed an overall $.54 per hundred weight (C.W.T.) loss for the average farm. The average farm did, however, make an average operating profit of $1.21 during those two decades, not enough to meet all required principal debt payments, but generally enough to reduce some debt and get refinanced annually.
As the graph illustrates, the 2009-2012 and 2012 operating results, reveal the dairy farmers' "fiscal cliff". During the last four years the average dairy farmer has not reduced, but increased debt in order to pay operating expenses. There remains little or no equity with which to borrow against in the future. There has been very little capital improvement, equipment purchasing or modernization on the farm, and we have lost about 10,000 dairy farms during this period.
These trends must change and since there are new five year farm bill discussions beginning in Washington, you, as a producer, must demand meaningful change for your own sustainability. A new five year farm bill that can help recapture our cost increases through the existing government producer pay price system is essential! The proposed Dairy Security Act will only, at times, reduce up to ½ of losses in "financially catastrophic" times and at a ½ billion dollar cost to the government. This is all the help the dairy farmer is being offered in this five year farm bill proposal. We need a price increase, not a small loss reduction.
If there was a $.70 cent per gallon retail price increase to help recapture the increased farmer costs, the U.S.D.A. national average whole milk price per gallon would increase to $4.19, and certainly not the $7 - $8 per gallon reported in the national news media on December 31, 2012. Our solution can come from the marketplace, not the government.
Since I am a dairy producer as well, I not only live this nightmare with my dairy clients, I live it personally. During my 40 years of experience working for dairy farmers, I have seen dairy farmers chase lost revenue (not profit) in low milk price periods by producing more milk, and what is most disturbing, wait for others to be forced out of business, while thinking the surviving producers will prosper. From 600,000 dairy producers three decades ago, to about 50,000 producers today, how many will be here when the next five year farm bill is debated? And how well have these strategies worked for us?
Meaningful dairy reform involves:
1. The market, not the CME, pricing our milk through the existing government Federal Milk Market Order System, and
2. If you want a responsible price for milk, you have to produce only what milk that can be profitably sold from the producer perspective, and
3. Tighten up milk import restrictions where imports are free to enter this country now.
4. Milk export opportunities (reported at 13% of domestic production, should be netted against uncontrolled imports of about 6%) should not be used as the excuse for continuing uncontrolled domestic production that results in very low producer prices.
These four dairy reform issues are necessary Farm Bill provisions to protect the sustainability of our national dairy farms and protect a fresh, safe, and locally produced supply of milk, and to take the financial strain of this country's grain export, ethanol, and energy policies off the backs of our dairy cows.
01.29.2013