18th Annual Breakfast on the Farm, Sunday, April 14th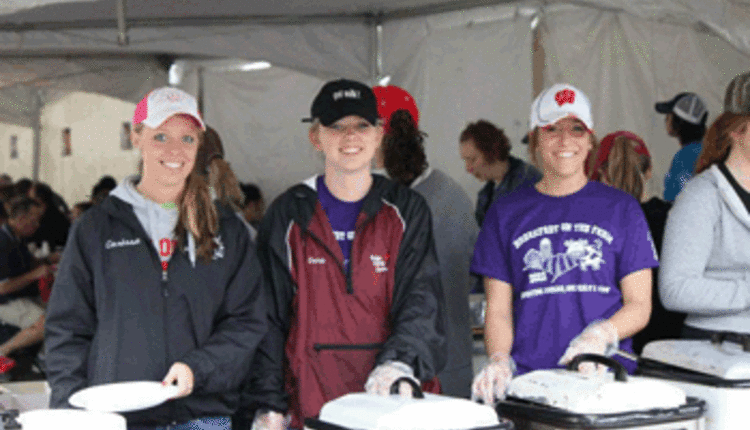 The Association of Women in Agriculture (AWA) is hosting its eighteenth annual "Breakfast on the Farm", Sunday, April 14th, 2013 in the Stock Pavilion at 1675 Linden Dr. This year our theme is "AWA Breakfast on the Farm: Because Eating is an Agricultural Act." Join us for a delicious breakfast and learn more about our agricultural industry.
This country tradition will include a home cooked breakfast consisting of pancakes, sausage, scrambled eggs, apple sauce, milk, coffee, juice and a sundae for dessert. Enjoy the petting zoo, educational activities, a visit from Bucky Badger, live Polka music, and a clogging performance while you eat breakfast. Breakfast will be served from 8:00 a.m. to noon.
Admission is $7 for adults, $6 for senior citizens (65+), $5 for students (K-UW), $3 for children ages 5 and under. Get a dollar off admission if you bring three canned food items to donate to the Second Harvest Food bank of Southern Wisconsin.
Breakfast on the Farm is hosted by the Association of Women in Agriculture, a professional, service and social student organization on the UW-Madison Campus. They are dedicated to serving and promoting all aspects of agriculture.
AWA, which was founded in 1973, is a non-profit organization that strives to unite women
with a passion for agriculture and develops them into leaders through service, social, and fundraising events. In addition to hosting "Breakfast on the Farm," this group is involved in community activities such as collecting food and clothing for local shelters, and volunteering and participating in educational agricultural events for youth.
Please join us for a traditional family style breakfast! For more information, find us on Facebook at www.facebook.com/AWABOTF or contact Julie Orth at 608.732.2715.
03.11.2013