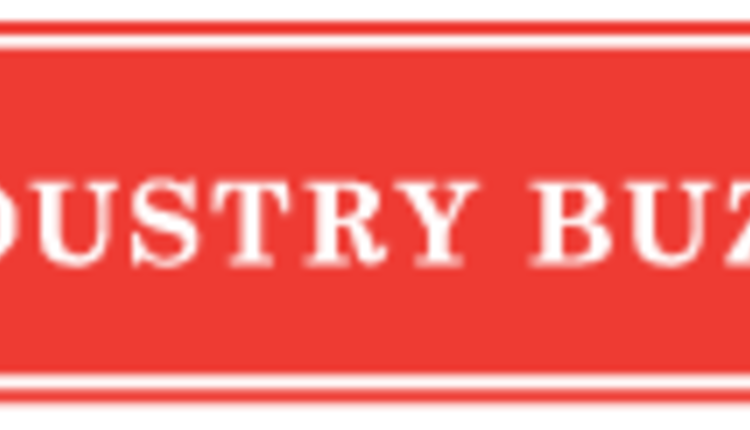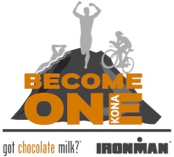 Gridiron great Hines Ward officially crossed the finish line at the 2013 IRONMAN® World Championship triathlon in Kailua-Kona, Hawai'i, culminating an eight-month training and recovery journey with
REFUEL | got chocolate milk?
and its BECOME ONE program. Ward, who until recently could barely run more than one mile, conquered the biggest stage in endurance sports, comprising a 2.4 mile open water swim, a 112 mile bike race, followed by a 26.2 mile run. His finish time was an impressive 13 hours and eight minutes, coming in well under the 17-hour, midnight cut-off.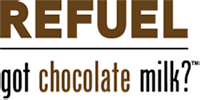 "It's been the hardest eight months of my life, but all of the sweat and effort that went into my training was worth it when I crossed the finish line and heard the announcer say, 'Hines Ward, you are an IRONMAN'," said Ward, a 14-year pro football veteran. "It's been a long journey and I could not have finished without the help of my coaches and knowledge of refueling smarter with chocolate milk."
Ward brought some of the gridiron to the swim as he battled through kicking feet and swinging arms of a field of around 2,000 of world's fittest athletes in a respectable one hour and twenty minutes. For the 112-mile bike leg, the winds were favorable during the first half of the course but he battled headwinds after making the turn-around at Hawi, completing it in six hours and 25 minutes. The marathon run was the big unknown for Hines going into the race as the longest training run he'd completed was 20 miles, which he'd done once. But Ward, showed grit and determination as he fought leg cramps and an upset stomach to finish the run in 5 hours and twelve minutes.
About BECOME ONE and The Science of Chocolate Milk
Ward, along with three other everyday athletes joining him on the life-changing journey to Kona, was coached by eight-time IRONMAN World Championship winner Paula Newby-Fraser, plus a host of elite athletes and sports dietitians. Together, they learned about the importance of post-exercise recovery and that what they do after strenuous exercise, such as refueling with chocolate milk – the Official Refuel Beverage of IRONMAN – can make a dramatic difference in how they feel and perform during their next workout. A growing body of published research supports what elite athletes have known for years – lowfat chocolate milk can help athletes recover after hard workouts so they can perform at their best during the next bout of exercise.
See Hines Ward's journey to from Day One to BECOME ONE, learn about the science behind the recovery benefits of chocolate milk, and check out exclusive training tips and videos at
gotchocolatemilk.com
. Join the conversation on
Facebook/gotchocolatemilk
and
Twitter @gotchocomilk
using #BecomeOne. Visit
ironman.com
to learn more about IRONMAN and the IRONMAN World Championship triathlon.
About the REFUEL | got chocolate milk?™ Campaign
The Milk Processor Education Program (MilkPEP), Washington, D.C., is funded by the nation's milk processors, who are committed to increasing fluid milk consumption. The National Fluid Milk Processor Promotion Board, through MilkPEP, runs the REFUEL | got chocolate milk?™ Campaign, a multi-faceted program designed to educate athletes about the recovery benefits of lowfat chocolate milk after strenuous exercise. Lowfat chocolate milk is simple, effective and scientifically shown to help refuel the body so athletes can perform at their best. It's a natural source of high-quality protein to build lean muscle; it has the right mix of protein and carbs to refuel exhausted muscles; plus fluids and a natural source of electrolytes to rehydrate and help replenish what's lost in sweat. For more information, go to
www.gotchocolatemilk.com
.
About IRONMAN
The iconic IRONMAN® Series of events is the largest participation sports platform in the world. Since the inception of the IRONMAN® brand in 1978, athletes have proven that ANYTHING IS POSSIBLE® by crossing finish lines at the world's most challenging endurance races. Recognized for excellence through distinguished events, world-class athletes and quality products, World Triathlon Corporation (d/b/a IRONMAN), owner and operator of the IRONMAN® Series, has grown from owner of a single race to a global sensation with more than 190 events across five unique brands: IRONMAN®, IRONMAN 70.3®, 5150™ Triathlon Series, Iron Girl® and IronKids®. For more information, visit
www.ironman.com
.
Return to Industry Buzz.
10.21.2013