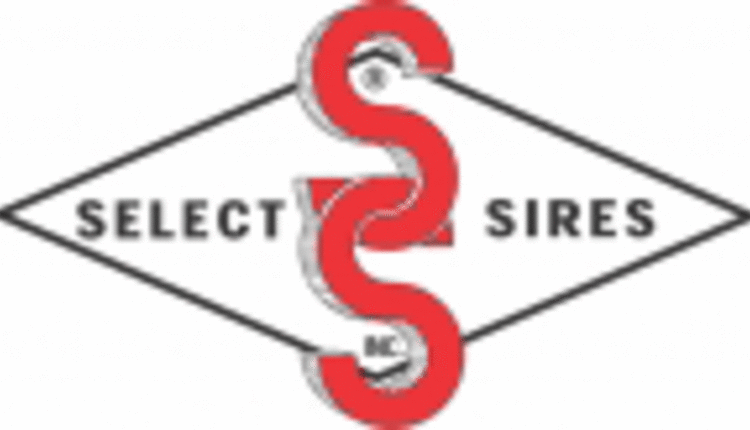 With 41 of the top 100 and 29 of the top 50 TPI® sires on Holstein Association USA's Top TPI Bulls list, Select Sires has placed its largest number of sires on the list. 7HO11351 SUPERSIRE (+2657), 7HO11621 MAYFLOWER (+2616), 7HO11752 BOB (+2576), 7HO11708 ROOKIE (+2550), 7HO11585 STERLING (+2542), 7HO11383 MORGAN (+2525) and 7HO11314 MOGUL (+2514) lead the way for Select Sires among the top 10 TPI sires.
Select Sires also leads the industry with the most sires (35) on the Holstein Association USA Top 100 Daughter Proven Plus (75 daughters in 50 herds) TPI list. Select Sires consistently offers more elite, highly reliable genetics than any other A.I. organization.
Top total performance
Of the top 25 proven sires for Net Merit (NM$), 15 are Select sires as well as 24 of the top 50 and 37 of the top 100. SUPERSIRE maintains his position as the top NM$ sire at +895 and is joined at the top of the industry by 7HO11833 RENNIE (+795), MAYFLOWER (+769), 7HO12165 MONTROSS (+765), 7HO11839 MONOCEROTIS (+761), ROOKIE (+756) and 7HO11525 DONATELLO (+734).
250HO1009 BREWMASTER has now held the top GLPI spot in Canada for the last four sire summaries at +3173 and has regained the top position for Pro$ (+2342). MOGUL (+3163) is the No. 2 sire for LPI while 7HO11477 MCCUTCHEN (+3065), 250HO11837 MCCORD (+3024) and 250HO1043 AIKMAN (+3002) are top-16 GLPI sires. MOGUL (+2233), MCCORD (+2143), 7HO11207 PUNCH (+2090) and 250HO1002 EPIC (+2076) rank in the top 20 for Pro$. BREWMASTER is also the top Fat sire at +134 and AIKMAN ranks fourth at +107.
Production leaders
There are 16 Select sires among the top 50 Milk active A.I. sires including MONTROSS (+2,523), MAYFLOWER (+2,521), SUPERSIRE (+2,375), STERLING (+2,178) and new graduate 7HO11647 POLICE (+2,158).
SUPERSIRE is the No. 1 sire for Combined Fat and Protein (CFP) at +187 and is joined in the top 20 by MONTROSS (+159), MAYFLOWER (+144), 7HO11419 HEADLINER (+141), BOB (+131), ROOKIE (+130), POLICE (+128), 7HO11836 MILES (+127), STERLING (+126) and 7HO11546 EMULATE (+126).
Improve health and wellness with WellnessPRO sires
Select Sires has designated the highest Wellness Trait Index (WT$) sires, an index that focuses on six wellness traits (mastitis, lameness, metritis, retained placenta, displaced abomasum and ketosis) and includes an economic value for Polled test results, as WellnessPRO sires. The top WT$ sires at Select are 7HO11567 MIDLAND (+291), 7HO11123 WRIGHT (+288), 7HO11617 DIAMOND (+276), 7HO11741 MOCHA (+272), POLICE (+261), 7HO11169 PETRONE (+255), 7HO11777 SNOWMOBIL (+251), 7HO10920 GOLD CHIP (+212) and 7HO11283 MAYFIELD (+202).
Dairy Wellness Profit Index (DWP$) is an innovative multi-trait selection index which includes production, fertility, type, longevity and the wellness traits. MAYFLOWER (+1,066), RENNIE (+1,060), SUPERSIRE (+1,009), 7HO11519 RACKET (+953), POLICE (+943) and EMULATE (+907) all exceed +900 DWP$.
Type standouts
Select Sires is home to an industry-leading four sires over +3.00 PTAT: No. 1 sire 7HO11596 DEFIANT (+3.80) as well as 7HO10506 G W ATWOOD (+3.65), 7HO11118 BROKAW (+3.32) and 7HO11477 MCCUTCHEN (+3.23) all stand ready to improve the type in your herd. North of the border, 7HO9264 DEMPSEY (+17), GOLD CHIP (+17) and 250HO1040 CALENDAR (+16) are top-10 Conformation sires.
Newcomer 7HO11926 DEFENDER (+3.03 Udder Composite), BROKAW (+2.96), MCCUTCHEN (+2.91) and 7HO10999 BRADNICK (+2.70) are top-10 UDC sires while G W ATWOOD (+2.83 Feet and Leg Composite), DEFENDER (+2.78), MCCUTCHEN (+2.72), 7HO11279 MOONBOY (+2.72), BRADNICK (+2.71), DEFIANT (+2.68) and MOGUL (+2.62) all rank in the top-10 for FLC.
Focus on fitness
RENNIE (+8.9 Productive Life), 7HO11597 ZEUS (+8.0), MOCHA (+8.0), WRIGHT (+8.0), PETRONE (+7.9) and 7HO10849 SHAMROCK (+7.7) daughters are long-living cows as evidenced by the placement of their sires among the top-15 PL active A.I. sires. 7HO11724 SHANDRO (+5.9), 7HO10297 MCNUGGETS (+5.9), 7HO10575 DOLCE (+5.8) and RACKET (+5.7) are leaders for Livability (LIV) while PETRONE (+5.9 Daughter Pregnancy Rate), WRIGHT (+5.5) and MOCHA (+4.4) are top-10 DPR sires.
PETRONE (+7.5 Cow Conception Rate), WRIGHT (+7.5) and MOCHA (+7.3) are top-five Cow Conception Rate (CCR) sires while PETRONE (+5.3 Heifer Conception Rate), 7HO11568 DOLLARS (+5.1) and MOCHA (+4.7) are the top three HCR sires in the breed.
Fertility frontrunners
Select Sires is the premier source for high fertility proven sires with an outstanding 46 proven that are +1.0 Sire Conception Rate (SCR) or higher. Select's fertility leaders include: 7HO11524 DANTE (+4.2 SCR), POLICE (+3.2), G W ATWOOD (+2.9), MONTROSS (+2.8), SHANDRO (+2.8) and SUPERSIRE (+2.7).
To view Select Sires' complete Holstein lineup, visit
www.selectsires.com
or contact your Select Sires sales representative.
Based in Plain City, Ohio, Select Sires Inc., is North America's largest A.I. organization and is comprised of nine farmer-owned and -controlled cooperatives. As the industry leader, it provides highly fertile semen as well as excellence in service and programs to achieve its basic objective of supplying dairy and beef producers with North America's best genetics at a reasonable price.
Return to Industry Buzz.
8.24.2016