The information below has been supplied by dairy marketers and other industry organizations. It has not been edited, verified or endorsed by Hoard¹s Dairyman.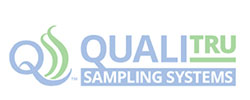 QMI, the industry's most trusted brand for liquid sampling is now QualiTru™ Sampling Systems.
The company's new name reflects a continuing commitment to accurate, aseptic sampling and a dedication to creating innovative, new products that answer needs in a changing marketplace.
QualiTru Sampling Systems™ has a long history within the dairy industry. For more than three decades it has been the most trusted sampling system in both dairies and milk processing plants for providing consistently accurate samples for testing.
In a nod to the company's legacy, QualiTru's new logo pairs the previous brand's large Q with twin fluid S icons, representing the company's long-time involvement in fluid sampling. The forward-looking icon positions QualiTru as a leader in aseptic sampling for the food and beverage industry at a time when significant safety regulations are being implemented.
The Food Safety Modernization Act (FSMA) is one of the most sweeping reforms in more than 70 years, requiring increased emphasis on product quality, safety and regulatory compliance. In response, the company's TruStream™ sampling system includes sanitary stainless steel ports, aseptic 7- and 12-channel septa and easy-to-use collection units. The U.S. Food and Drug Administration (FDA) and the National Conference on Interstate Milk Shipments (NCIMS) have approved QualiTru's sampling system, which speaks to the quality of samples that the TruSteam sampling system consistently delivers.
In 2017, QualiTru will introduce a unique aseptic sampling container that provides a chain of custody process from sample collection to laboratory testing. This commitment to reliable sampling technology and ongoing sampling technology advances are helping industries from dairy plants to breweries accurately test their liquid products. The pre-sterilized, aseptic TruDraw single sampler will provide a simple-to-use sampling solution that dramatically improves safety and ensures that a truly representative sample is available for testing.
Brett Roeller, Quality Control Manager of QualiTru, said, "Our TruDraw single sampler is another important step to ensuring food and beverage safety from farm to the consumer's table. The potential savings the industry can realize in both time and assurance of quality is going to make a very positive impact for decades to come."
Visit QualiTru.com to learn more and for exciting new product announcements.