The information below has been supplied by dairy marketers and other industry organizations. It has not been edited, verified or endorsed by Hoard's Dairyman.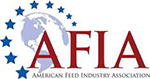 The American Feed Industry Association honored two individuals in the animal science field at the American Dairy Science Association annual meeting in Knoxville, Tenn., June 25. Ian J. Lean, Ph.D., of Scibus received the AFIA-ADSA Nutrition Research Award, and Ronald L. Horst, Ph.D., of Heartland Assays received the AFIA and Federation of Animal Science Societies New Frontiers in Animal Nutrition Award.
"These awards recognize leaders who have provided significant contributions in animal science and nutrition," said Paul Davis, Ph.D., AFIA's director of quality, animal food safety and education. "Drs. Lean and Horst have dedicated their careers to dairy science research, and they are both well-deserving of these awards."
Ryan Ordway of Balchem presented both awards.
ADSA Nutrition Research Award
Lean is the founder and managing director of Scibus, an agricultural research and consulting firm in Australia. Over his career, he has worked as a large animal veterinarian in Australia and a lecturer of clinical nutrition and cattle medicine at the University of California and the University of Sydney. He also served as the senior examiner in cattle medicine and ruminant nutrition for the Australian College of Veterinary Scientists and as president of the Australian Association of Cattle Veterinarians and the cattle chapter of the Australian College of Veterinary Scientists.
Lean has authored more than 200 scientific articles, many of which have been published in international peer-reviewed journals. He also wrote the textbook "Nutrition of Dairy Cattle." He has spoken at major conferences in the United States, Australia, New Zealand, Canada, the United Kingdom, Argentina and South Africa.
FASS New Frontiers in Animal Nutrition Award
Horst is the cofounder of Heartland Assays and GlycoMyr, two companies that focus on developing products and analytical techniques to identify and alleviate vitamin D and calcium deficiencies. He served as a research scientist for the U.S. Department of Agriculture's National Animal Disease Center and as a professor in Iowa State University's Department of Animal Science from 1978 through his retirement in 2006.
Horst is most known for his work involving milk fever in dairy cows. This work has crossed from the veterinary field into human medicine, citing multiple collaborative studies detailing vitamin D metabolism abnormalities in several human diseases.
Both of these awards are sponsored by AFIA as part of its continuing awards program that dates back to 1948.
About AFIA
Founded in 1909, the American Feed Industry Association (AFIA), based in Arlington, Va., is the world's largest organization devoted exclusively to representing the business, legislative and regulatory interests of the U.S. animal food industry and its suppliers. The organization's membership is comprised of more than 680 domestic and international companies that represent the total feed industry—manufacturers of commercial and integrated feed and pet food, ingredient suppliers, pharmaceutical companies, industry support and equipment manufacturers. AFIA members manufacture more than 75 percent of the feed and 70 percent of the non-grain ingredients used in the country. AFIA is also recognized as the leader on international industry developments, and holds membership in the International Feed Industry Federation (IFIF).