The dairy farm where the automatic milking rotary will be installed is located in Schlossvippach, in the state of Thuringia, Germany. It represents the first commercial installation to be sold on the German market.
Stockholm, Sweden (June 2011). DeLaval International announced today the next commercial installation of the DeLaval AMR™ which will be in Germany. "This is yet another significant step for DeLaval as we enter the German market with the AMR™. This system is a revolution in high capacity milking and what farmers with herds of 300-800 cows have been waiting for," said DeLaval Vice President Business Area Capital Goods Andrew Turner.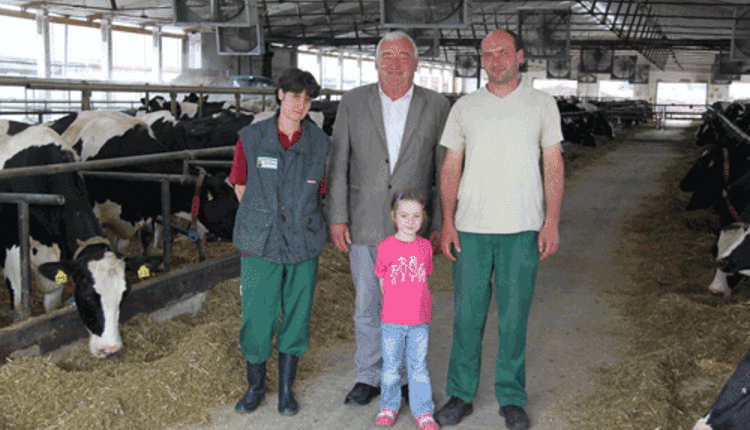 The Laproma Farm in Schlossvippach, Germany was founded in 1991 and is a former agricultural production co-operative. The dairy farming division of the operations at Laproma is a significant part of the business that also includes cropping, beef cattle (40 ha grassland), and biogas production. The farm is currently milking 900 cows and sees opportunities for growth. A whole new site will be set up for the DeLaval AMR™ and will consist of a new barn and dairy center that will be built up in two phases from 2011-2013 for an additional 800 cows. The first milking is planned for September 2012. In addition a second biogas plant is also being planned; the existing unit has been in operation since 2009 with a capacity of 499 kw.
The Managing Director for Erzeuger-und Handels-AG LAPROMA Schlossvippach, Mr. Dietrich Kirchner says, "Our goal was and still is sustainability and growth in milk production, with our existing production we have a very good level of 900 milking cows and an average milk yield per year of 10 500 Kg, but we cannot grow further on the same site."
The Laproma Farm currently has 43 employees in total with 22 of them focused on the dairy farming branch of the business. "Sustainability also means having the right personnel and we are not only a young team with a highly professional education but also have ambitions for milk production. In the new production unit we will be fully focused on animal health, environment, animal welfare and cow comfort and of course an excellent working environment for our people," continued Mr. Kirchner.
The DeLaval AMR™ has been developed with three key customer benefits in mind; profitability, farm management and flexibility. The main components of the system are teat preparation, attachment and teat-spray modules, two touch screens to operate the system, automatic cup back flush, automatic floor cleaning and safety systems. The first AMR™ systems will have up to 90 cows/hour capacity, depending on the number of robots installed. As many as five robots can be attached to the rotary.
The challenge to develop the AMR™ was to bring to market a flexible system that works equally well on all types of farming operations. Another key fundamental is scalability so dairy farmers can start with a lower level of automation and then increase as their business grows. "This flexibility is a major advantage allowing our customers to grow at their chosen pace," Andrew Turner said.
DeLaval is testing the AMR™
on farms in Sweden and in Australia and will implement commercial installations in those markets also during 2011 with availability in other selected markets in 2012.

Every day millions of dairy animals are milked, fed and maintained by DeLaval solutions in more than 100 countries worldwide – and DeLaval meets with over 10 000 milk producers on their farms.

DeLaval has over 125 years of innovation and experience in the dairy business, supporting dairy farmers in managing their farms their way. Our Sustainable Dairy Farming initiative is contributing to the production of more quality food, for more people, with less impact on the environment. Our Smart Farming strategy aims at influencing and shaping the future of dairy farming today. The goal is to accelerate the transition from milking management to global farm profitability management by harnessing emerging decision tools and automation technologies for better quality milk and profits. DeLaval is a company of the Tetra Laval Group. For more information please contact Kim Sjölund Communications Director at DeLaval International kim.sjolund@delaval.com/ +46 530 662 77.

06.28.2011