The information below has been supplied by dairy marketers and other industry organizations. It has not been edited, verified or endorsed by Hoard's Dairyman.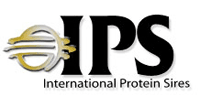 International Protein Sires
(IPS) has raised the bar for polled genetics resulting from the most recent sire summary. Hornless cattle are now possible without making genetic concessions for production with IPS polled genetics. In addition, there are significant labor saving costs by eliminating disbudding or dehorning. "Through our dedication to provide the best and most affordable genetics, we are pleased that our polled sires offer superior milk production with enhanced conformation traits. Dairy farmers can now dehorn their cattle naturally while improving their herd performance with these superior genetics," indicated Ron Sersland, IPS President and CEO.
566HO1320 JUST IN TIME RC PP is the #2 production bull among homozygous polled Holsteins at +2,006 lbs. milk. At +2.59 type and +2.55 UDC, JUST IN TIME is the #8 homozygous polled bull for GTPI at +2532. This breed leader shows positive linear traits across the board with several off the chart. Two additional attributes include; 6.4% calving ease and red factor. A son of Simplicity, JUST IN TIME is from a Zipit daughter destined to join the next eleven generations of Very Good or Excellent maternal dams.
For the red enthusiast desiring polled cattle, 566HO1296 LOYAL P-Red PC offers a supreme balance between improved production and type. Among the top ten GTPI Red & White bulls of the breed, LOYAL-P RC is tied at No. 2 for type. With a GTPI of +2243, the conformation scores for LOYAL P-Red PC are +2.10 type and +2.81 UDC. His production rating is +455 lbs. milk, +0.12% fat and +0.03% protein. These traits are complimented by an excellent productive life score of +3.3 along with being A2A2. This polled carrier is sired by Loyola-P from an Olympian daughter. Through the depths of his unique maternal family, you will find Hanoverhill Tony Rae (EX-96) as the eight dam.
566HO1321 CATCH ON-Red PP, at +2339 GTPI, ranks him #3 in the breed for homozygous polled red bulls. This superior ranking will appeal to the most progressive dairy farmer looking for impact genetics, whether red or polled. A component improver at +0.12% fat and +0.08% protein, CATCH ON-RED PP is rated A2A2. He is also a notable homozygous polled udder improver at +2.30. Durability is another strong suite, being +7.7 for productive life. His calving ease, at 5.6%, makes CATCH ON-RED PP ideal for heifers. This versatile Holstein comes from a youthful and Very Good two year old daughter of Piranha while his sire is Lucky PP.
This offering of pacesetter polled genetics is a true testament that IPS is breeding cows, not numbers. IPS genetics provides the balanced performance that dairy farmers have come to expect worldwide. IPS semen is available throughout the world from IPS employees and independent distributors. Located in Rock Springs, Wisconsin, you may obtain additional information about IPS through their website, www.ipssires.com or by calling toll free: 1.800.542.7593.