It is absolutely crazy how fast that time went by. I mean seriously, I still have nightmares where I wake up and think I have missed a college class before coming to the realization that I haven't been in school in years. Well, it happened this past week. I turned 30 years old and plucked not one but two gray hairs out of my head. My scalp could have given me just enough time to get a grip on the actual fact of turning 30 before it started shooting the gray ones out.
When I graduated college and came back to the farm, I just thought I knew everything. You couldn't tell me a thing. I know if myself now could talk to myself then, we would definitely have some arguments to settle. There were decisions I made that I felt "good" about then but that I definitely hesitated to make. Now, I would answer most of those questions without hesitation and would not necessarily give the same answer.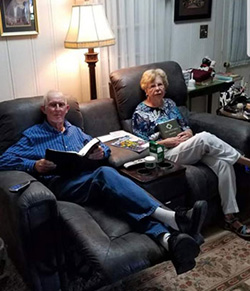 Over the last 30 years there are so many things that I am thankful for. I grew up on this farm, fed calves as a child, and had many dry cow patty fights. I grew up close with my family — not only my immediate family, but cousins, aunts, and uncles, too. This farm is an anchor. It held many events including all the family reunions.
I have had the chance, and still have the opportunity, to work with not only my dad, uncle, and cousin, but also with my grandfather. My grandparents live at the center of our farm, and being able to see them as often as I do is truly a blessing . . . and so is sneaking inside for Granny's snacks that she has made from time to time.
There's nothing I truly regret in the last 30 years. I've been blessed, my family has been blessed, and wonderful memories have been made. I hope and pray to have those blessings follow in the next 30 years . . . minus the gray hairs.
---

Mark and Caitlin Rodgers are dairy farmers in Dearing, Georgia. Their "Father and Daughter Dairy Together" column appears every other Thursday on HD Notebook. The Rodgers have a 400-cow dairy that averages 32,000 pounds of milk. Follow their family farm on Facebook at Hillcrest Farms Inc.