The information below has been supplied by dairy marketers and other industry organizations. It has not been edited, verified or endorsed by Hoard's Dairyman.

In a time of uncertainty and low odds, dairymen cannot afford to gamble. Data and proof can drive results to ensure correct decisions. Genomic testing proves to be a tool dairies can rely on to ensure decisions are not risky, and a desired result will happen.
"Dairies can't afford not knowing," says Josey Morris, Visions+™ Product Manager for STgenetics®. "Taking away as much uncertainty as possible is key and something we want to ensure our customers achieve."
A total of 75 traits are included with results of Vision+75™ – including all production, longevity, health, conformation, and selection traits. Additionally, all four milk markers, 19 additional markers, and an EcoFeed™ evaluation for females are included at no extra charge.
STgenetics® recently launched a new, Council on Dairy Cattle Breeding (CDCB)-validated compact genomic test – Visions+20™. Visions+20™ results include 20 traits – 12 CDCB production, longevity, health, and conformation traits, three selection indices, and four milk markers. Chromosomal Mating™ capabilities and EcoFeed™ evaluations for females are also included.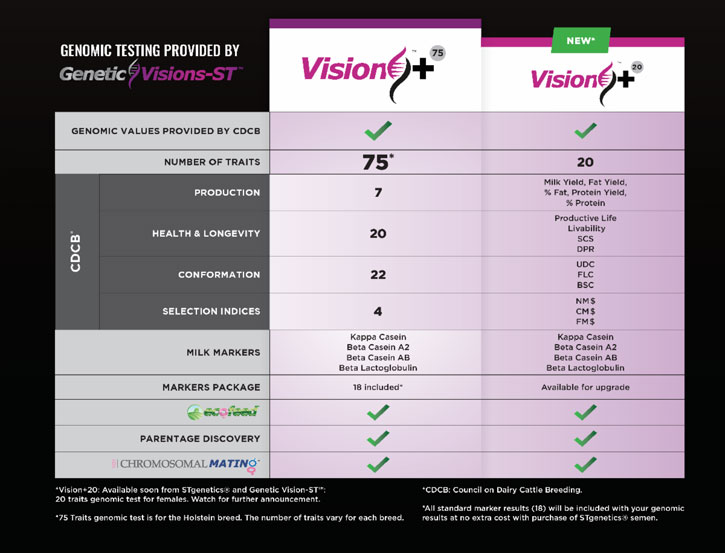 The Vision+™ suite of information is powerful for dairymen. For Jeff Lambrecht of Lambrecht Dairy, LLC, genomic testing is instrumental in his dairy.
"It's a priority," says Lambrecht. "We use the data to determine who is the most valuable for the next generation."
Lambrecht started testing years ago to identify the top animals. His 350-cow dairy now uses it as a sorting tool to focus on the future. Production and health traits, such as protein and fat, along with Daughter Pregnancy Rate (DPR) and Productive Life (PL), are the datapoints included in his genomic results that he values.
"It is easy to do," Lambrecht says. "I like genomic testing. I like the data I get and I also really like seeing the recessives so I can get rid of them in my herd."
With a suite of information, decisions do not have to be a gamble. In a time of uncertainty, dairies need certainty. Be certain with Visions+™ from STgenetics®.
For more information, go to www.stgen.com.