Hannah Worden joins the ABS Global team as California Cornerstone Specialist.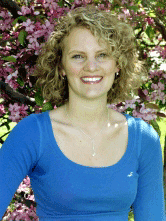 "Worden's extensive and diverse knowledge of the dairy industry and her experience in record keeping will make her an asset to the Cornerstone team," stated Matt Sneller, Western US Cornerstone Supervisor."We look forward to having Hannah work with ABS customers in California."
A 2009 graduate of Cornell University, Worden has taken on various roles in the industry. She was most recently a member of the feed laboratory team at Denele Analytical in California, where she ran feed samples and prepared reports for clients. Worden has also been an assistant herdsman for her family's 900-cow dairy, Will-O-Crest Farm, where some of her tasks included using Dairy Comp 305 and clipping and assisting with picturing cows.
As a Cornerstone Specialist, Worden will be responsible for assisting field staff with education and promotion of developing new herds, as well as working with staff to evaluate and maintain data in herds already participating in the ABS Cornerstone™ program. She will also be responsible for on-farm evaluation, coordinating and assisting with picturing of ABS sired progeny along with arranging and conducting ABS daughter and herd tours. Worden's role will include covering the state of California.
Headquartered in DeForest, Wisconsin, ABS Global is the world-leading provider of bovine genetics, reproduction services, technologies and uddercare products. Marketing in more than 80 countries around the globe, ABS has been at the forefront of animal genetics and technology since its founding in 1941. ABS Global is a division of Genus plc.
07.21.2011