The J.L. Darling Corporation, manufacturers of Rite in the Rain all-weather writing paper, has released a new line of shirt pocket notebooks specifically created for use in the Agriculture industry.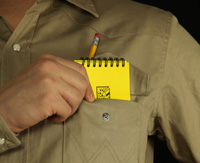 Rite in the Rain is a patented, environmentally responsible, all-weather writing paper that sheds not only rain, as the name implies, but sweat, humidity, "animal fluids" and even the accidental trip through the washing machine. Rite in the Rain is able to provide people around the world with an effective means with which to write, protect, and keep valuable information when working in the outdoors.
The new line of books includes Beef and Dairy Calving Record Books, a Cow Breeding Record Book and an Animal Treatment Record Book.
Rite in the Rain has been creating "Outdoor writing products for outdoor writing people" for decades and these new agriculture products are a wonderful addition. Products include copier paper, field books, notebooks, loose leaf, grid sheets and all-weather pens. Custom printing is also available.

For more information contact the J.L. Darling Corporation -phone (253) 922-5000 or visit us online www.RiteintheRain.com
07.27.2011