Visitors to the Iowa State Fair can pick up two popular free items in front of the Butter Cow area and at the Iowa Department of Agriculture display in the Agriculture Building, courtesy of Midwest Dairy Association. A new recipe brochure featuring dairy and a flyer highlighting facts about flavored milk are free resources to fair-goers as they stop by to view the exhibits.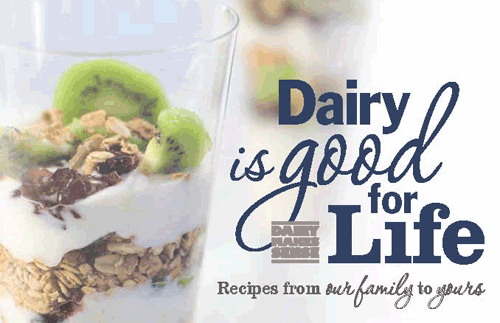 The recipes in the Dairy Goodness brochure were contributed by the people behind the dairy products everyone enjoys – dairy farmers, and more specifically dairy farm moms. From breakfast to dinner, layered fruit and yogurt cup to baked zucchini ziti, each of the eight recipes comes from the kitchen of a dairy farm mom and carries her seal of approval.
For example, Minnesota dairy farm mom Kristine Spadgenske's recipe for summer fruit and pasta toss features low-fat vanilla yogurt for a sweet and refreshing dressing on pasta salad. The brochure also highlights dairy nutrition, farm-to-fridge milk handling and the care taken by dairy farmers in producing wholesome products. "The folks behind these recipes really understand how wholesome food gets to our tables," says Donna Moenning, senior vice president for integrated communications at Midwest Dairy. "They take care of the cows and the land that produces great dairy products, and they prepare these foods for their own families."
A second free item will help families understand the great nutrition delivered by flavored milk. A flyer shaped like a milk bottle, called "Five Reasons Flavored Milk Matters," outlines key flavored milk facts related to child nutrition. Flavored milk has been the subject of discussion across the country in recent months, and the handout helps outline the importance of flavored milk to kids' health. The fact that children who drink flavored milk have better quality diets and meet more of their nutrient needs than non-milk drinkers is just one reason shared on the flyer.
The items will be distributed at State Fairs across Midwest Dairy's 10-state territory.
###
Midwest Dairy Association is a non-profit organization funded by dairy farmers to build demand for dairy products through integrated marketing, nutrition education and research. Midwest Dairy is funded by checkoff dollars from dairy farmers in a 10-state region, including Minnesota, North Dakota, South Dakota, Nebraska, Iowa, Illinois, Missouri, Kansas, Arkansas and eastern Oklahoma. For more information, visit www.midwestdairy.com. Follow us on Twitter and find us on Facebook at Midwest Dairy.
08.08.2011