The phrase "share your story" can feel overused at times, but here's proof that those conversations about agriculture can really make a difference.
Last year, fast food chain Burger King released an advertisement that angered many in agriculture. The ad featured a catchy song and focused on the methane emissions released by cows. The company's intentions may have been good, but the promotion painted cattle and farms in a negative light, and their solution to reducing emissions by feeding cows lemongrass was based on a very small research study with inconclusive results.
Michelle Miller, known in the social media world as the Farm Babe, said she was pretty upset when she first saw the commercial. She shared her thoughts at a panel discussion during the American Farm Bureau Federation's virtual annual meeting.

"Sustainability is always in the forefront of our minds. Sustainability is what we do all day, every day," Miller said. She farms with her boyfriend and his family on their Iowa farm, where they grow 2,200 acres of corn, soybeans, alfalfa, and oats, and raise sheep and cattle.
Rather than take an angry approach, Miller said she decided to send a tweet to Fernando Machado, chief marketing officer for Restaurant Brands International, which includes Burger King, Popeyes, and Tim Hortons. She explained why the agricultural industry was offended by this advertisement.
"My goal as the Farm Babe is to give farmers and science a bigger voice," she explained. She thought her message to Machado would likely get ignored, so she was incredibly shocked to hear form their public relations team.
Machado said that their company has been studying feed additives for cattle for more than a decade, and they were proud of the campaign they put together. However, after hearing from Michelle and others, "There were things we put out there that were not well received," Machado explained. After visiting with Michelle, he understood was she was saying, and they decided to take the conversation further by turning it into a farm visit.
Machado flew to the Midwest and toured a few farms in Wisconsin and Iowa, including Miller's. "It was great," he said of the experience. "It was insightful for me to see all the hurdles that farmers have. You just don't think of that if you are not living in that reality."

The marketer explained that the company's sustainability efforts are much broader than this one commercial. "We all want the same thing, and we should never forget that," he said, giving a nod to farmer's stewardship of the land and care of animals.
His shared a bit of advice to agriculturalists. "If you feel offended or don't like something you saw, take action, but take action by trying to build bridges. Maybe a dialogue will start," he said.
As for lessons he learned after this experience, he said that on initiatives related to sustainability or product quality, he would bring in people from the industry to be a sounding board. "Someone like Michelle sees the world differently than I see it," he shared. "It is better to have that involvement and hear views and opinions early on to avoid blind spots you might have when going into uncharted territory."
Miller was also very pleased with the experience. "I was so grateful to have that conversation," she said.
She recommended that other farmers stand up for what they believe is right, but to do it in a respectable way. "It doesn't matter who you are. Treat other people how you want to be treated," she said. "It is important to understand that your voice can make a difference, and it can be something as simple as a tweet."
Machado agreed that these conversations are much more successful if there is respect from both parties. "You were clearly not happy, but you did not a cancel Burger King," he said, referring to the current "cancel culture" that can happen quickly to celebrities, companies, and products.
"If you are a farmer, you have a story to tell. People may be interested in that story, especially if you wrap your voice in a way that comes across as positive or trying to help. I think people will be more open to that. Build bridges rather than burn bridges," he explained.
Miller recognized that although she found the Burger King commercial to be offensive, she admitted that it was creative and well done.
"What if we could create these marketing campaigns that are that creative, but showcase and highlight out farmers in a positive way?" she pondered. She said she hopes to continue working on this relationship with Burger King and its parent company, and Machado welcomed that idea.

"Quite honestly, I have learned a lot," Machado said. "It helped shape my view and come up with more ideas."
What had the potential to become a war turned into a working relationship that will hopefully benefit agriculture in the future. "It all started with a discussion and a negative feeling. We can only make progress if we work together," Machado said.
---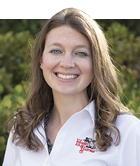 Abby Bauer
The author is the senior associate editor and covers animal health, dairy housing and equipment, and nutrient management. She grew up on a dairy farm near Plymouth, Wis., and previously served as a University of Wisconsin agricultural extension agent. She received a master's degree from North Carolina State University and a bachelor's from University of Wisconsin-Madison.